Nepal-India Transit Treaty Review Allows More Inland Waterway Routes
27 November 2019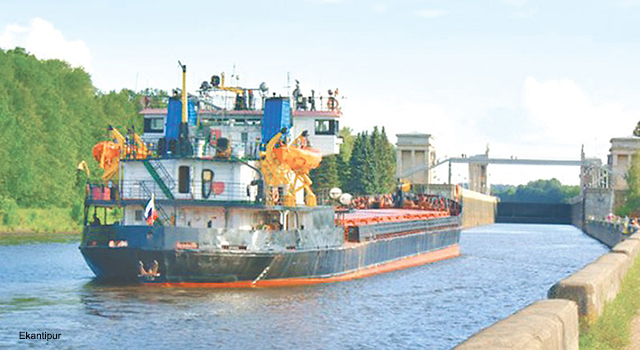 A review of the Nepal-India Transit Treaty held in Kathmandu, Nepal discussed various issues on simplifying Nepal's transit routes via India.
According to news by My Republica, India has given a positive response to Nepal's proposal to expand inland waterways in three routes—the Kolkata-Kalughat-Raxaul, Kolkata-Sahebgunj-Biratnagar, and Kolkata-Varanasi-Raxaul routes. The meeting finalized a standard operating procedure for access to these routes.
Adding inland waterway routes between India and Nepal will promote efficient movement of cargo imported from third countries to Nepal, and reduce the cost of transporting goods. India developed a waterway on the Ganges River connecting Varanasi to the Haldia seaport in Kolkata.
The meeting also agreed to allow movement of bulk cargos via railway from Indian seaports of Kolkata and Vishakhapatnam to major Nepal-India border points, Jogbani (Biratnagar), and Nautanwa (Bhairawa). Bulk cargo items from third countries are currently imported to Nepal only through the Raxaul (Birgunj) border point. Nepal's traders have long been requesting to diversify the bulk cargo transport.
Nepal also sought the implementation of the Electronic Cargo Tracking System and adoption of transhipment modality in trade between the two countries in the Transit Treaty. These will be decided upon after further bilateral discussions.
Mr. Navaraj Dhakal, Spokesperson, Ministry of Industry, Commerce, and Supplies, Government of Nepal and Mr. Bhupinder Singh Bhalla, Joint Secretary, Department of Commerce, Indian Ministry of Commerce and Industry, Government of India led the Nepal and India delegations.
Related Links: