Bangladesh and India Urge Implementation of BBIN MVA, Strengthening Multimodal Connectivity
26 October 2019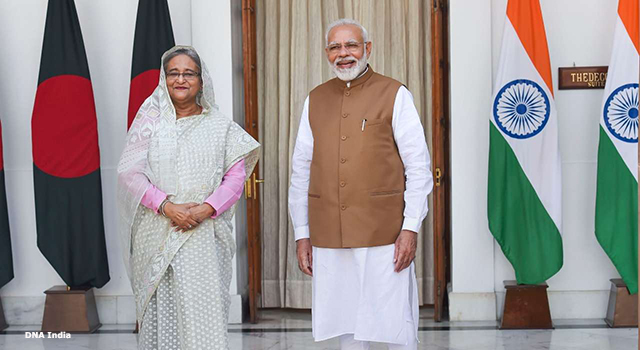 Bangladesh Prime Minister Sheikh Hasina and India Prime Minister Narendra Modi agreed to operationalize the Bangladesh-Bhutan-India-Nepal (BBIN) Motor Vehicle Agreement for movement of goods and passengers between "member countries who are willing and ready," in their dialogue held during the Bangladesh Prime Minister's visit to India on 5 October 2019. She was invited by the India Prime Minister for an official visit. She was also Chief Guest at the India Economic Summit organized by the World Economic Forum on 3-4 October 2019.
The two leaders also presented the option of working towards a bilateral India-Bangladesh Motor Vehicles Agreement (BBIN MVA), as appropriate. Implementing a transit agreement in the subregion will help facilitate better connectivity and simplify movement of passengers and goods.
According to the official news release by the Press Information Bureau of the Government of India, the detailed discussions between the State Leaders were held in an "atmosphere of great cordiality and warmth."
The two Prime Ministers emphasized furthering connectivity between Bangladesh and India in the Joint Statement. This included
On multimodal connectivity, both leaders underscored that increasing connectivity through air, water, rail, road offers mutually beneficial opportunity for enhancing economic cooperation between Bangladesh and India's northeastern region;
On the use of Chattogram and Mongla ports for movement of goods to and from India, particularly to and from India's northeastern region, both Prime Ministers welcomed the conclusion of Standard Operating Procedures;
On further increasing road connectivity, plans for commencement of Dhaka-Siliguri Bus service was welcomed;
On using inland water and coastal shipping trade to move cargo, they welcomed the decision to operationalize the Dhulian-Gadagari-Rajshahi-Daulatdia-Aricha Route (to and fro) and include Daudkandi-Sonamura Route (to and fro) under Protocol on Inland Water Transit and Trade.
On mutually-beneficial use of seaports of Bangladesh and India for transshipment of their respective export cargoes, the two sides also agreed to expedite discussions on requisite modalities.
On railways, they acknowledged the immense potential for cooperation, and noted with satisfaction the constructive discussions between the Railways Ministers of the two countries in August 2019. The two leaders welcomed the increase in the frequency of Maitree Express from 4 to 5 times per week and that of Bandhan Express from 1 to 2 per week as an important step in enhancing people-people connectivity.
On air connectivity, they welcomed the decision to expand the capacity entitlement in air services.

Energy Cooperation
Cross-border energy cooperation was also discussed. Prime Minister Hasina and Prime Minister Modi inaugurated a project allowing the sourcing of bulk LPG from Bangladesh to Tripura using Bangladeshi trucks. Both leaders hoped that this will help bolster cross border energy trade. They also welcomed the agreement to develop a 765kV double circuit cross-border electricity interconnection between Katihar (India), Parbotipur (Bangladesh), and Bornagar (India). They acknowledged that this additional capacity would enable more intraregional electricity trade, including competitively-priced power generated from hydropower projects in India, Nepal and Bhutan.

Update: Prime Minister Hasina Promotes BBIN MVA Implementation to Nepal Prime Minister
In a bilateral meeting with Nepal Prime Minister KP Oli, Bangladesh Prime Minister Sheikh Hasina reiterated the call for early operationalization of the BBIN MVA between Bangladesh, India, and Nepal. According to news, Bangladesh Foreign Secretary Md Shahidul Haque said that Nepal agreed to the proposal of Sheikh Hasina. Prime Minister Hasina met Prime Minister Oli on the sidelines of the Non-Aligned Movement in Baku, Azerbaijan on 25-26 October 2019.
Related Links