Rationalizing BIMSTEC's Areas of Cooperation to Help Deliver More Results: BPWC Meeting
11 October 2019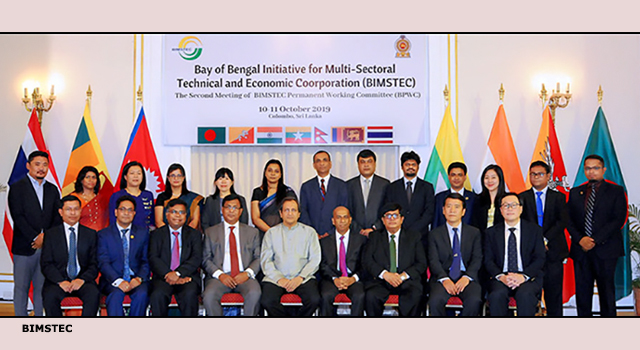 The Bay of Bengal Initiative for Multi Sectoral Technical and Economic Cooperation (BIMSTEC) Permanent Working Committee (BPWC) discussed rationalizing the organization's areas of cooperation and the draft memorandum of understanding to be signed with the Asian Development Bank (ADB). The Ministry of Foreign Affairs of the Government of Sri Lanka organized the BPWC meeting in Colombo on 10-11 October 2019.
BPWC is comprised of senior level officials acting as BIMSTEC National Focal Points. Sri Lanka is the current chair of BIMSTEC.
The Meeting also deliberated the updating of the draft template of the Memorandum of Association on the Establishment of the BIMSTEC Centers/ Entities, the draft calendar of activities for 2020, and the Secretariat's estimated budget for 2020.
In his opening speech, Mr. Ravinatha Aryasinha, Foreign Secretary of the Government of Sri Lanka, emphasized that for Sri Lanka, early finalization of the BIMSTEC Charter and rationalization of the sectors are crucial to re-energize the organization. Rationalizing the sectors will help maximize utilization of resources and make BIMSTEC result-oriented organization that delivers tangible results.
He also underscored the importance of working closely with international organizations, including ADB, Association of Southeast Asian Nations, and Indian Ocean Rim Association.
The Foreign Secretary also noted that BIMSTEC is yet to reap the benefits of its full socioeconomic potential, with intraregional trade at 3.7% and investment at approximately 5%.
BIMSTEC Secretary General M. Shahidul Islam urged the attendees to place before the 5th BIMSTEC Summit to be held in Colombo concrete outcome for endorsement.
All member countries of BIMSTEC reaffirmed their commitment toward achieving the inter-subregional organization's objectives. The next BPWC is scheduled to be held in the first quarter of 2020.
On the sidelines of the BPWC meeting, BIMSTEC Secretary General M. Shahidul Islam called on the Sri Lanka Foreign Secretary to discuss how to strengthen BIMSTEC's institutional and operational framework.


Related links: