New Butwal-Gorakhpur Cross-border Transmission Line to be Jointly Built by India and Nepal
15 October 2019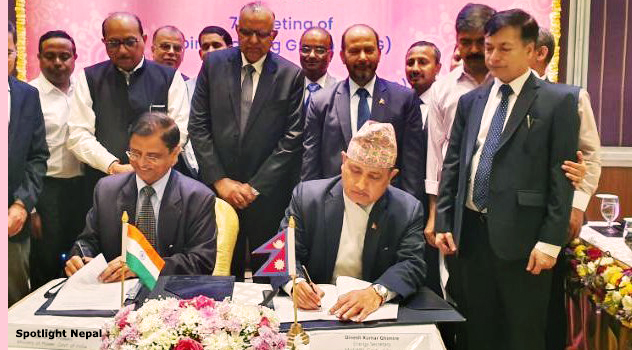 India and Nepal held a two-day energy secretary level meeting on 14-15 October 2019 in Bangalore, India. The meeting aimed to finalize details of the new Butwal-Gorakhpur cross-border transmission line and review the energy banking agreement.
The meeting decided to build the 400 kVA transmission line under 50-50 equity. The two countries will setup a joint government-to-goverment company to develop this project.
The delegation from India also agreed to open up energy banking with Nepal, and allow Nepal to enter its power exchange market. India and Nepal have agreed to set up the energy banking modality in December 2018. In July 2019, Nepal sent 200 megawatts of electricity to India under energy banking.
The meeting also agreed to upgrade the Katiya-Kusaha and Raxaul-Parwanipur, both 132 kVA cross-border transmission lines, into double circuit capacity.
Mr. Subhash Chandra Garg, Secretary, Ministry of Power, Government of India, and Mr. Dinesh Kumar Ghimire, Secretary, Ministry of Energy, Water Resources and Irrigation of the Government of Nepal led the India and Nepal delegations.
Related links: