'Regional Connectivity for Shared Prosperity': UNESCAP's Roadmap to An Inclusive Future
20 August 2014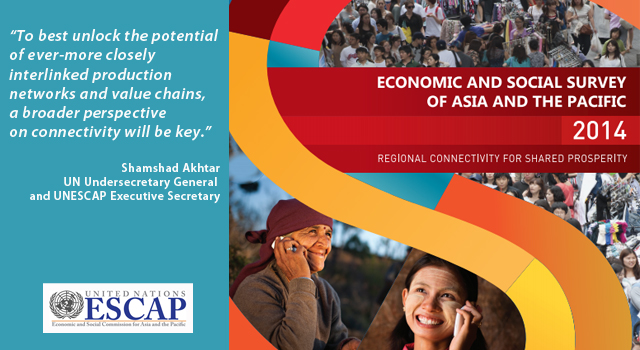 Economic dynamism in the Asia-Pacific region has been driven primarily by individual economies, yet to ensure sustainable growth in the future, countries must integrate and cooperate to share prosperity, according to the 2014 edition of the Economic and Social Survey of Asia and the Pacific, published by the United Nations Economic and Social Commission for Asia and the Pacific (UNESCAP).
Adapting the theme, 'Regional Connectivity for Shared Prosperity,' this 2014 edition of UNESCAP's flagship publication emphasizes the importance of furthering regional connectivity in Asia-Pacific—a region which, despite significant reductions in poverty levels, is now witnessing rising income inequality, both within and between countries.
Launched at ESCAP's 70th Commission Session in Bangkok, Thailand, this 2014 publication calls for driving the region's growth by exploiting the interdependence and synergies of five elements: trade and transport connectivity, ICT networks, energy connectivity, people-to-people networks, and promotion of knowledge-based economies. Moreover, it advocates approaching connectivity as a regional public good. With most countries in the region still classified as 'developing,' such framework can reduce development costs, enhancing connectivity even in the most disadvantaged countries, while preventing bottlenecks in the network. Countries could explore mechanisms to pool the region's financial resources, or to welcome more public-private partnership projects, to deal with high capital costs and distribute the pace of infrastructure development more evenly.

With national governments clearing the way for connectivity in the region, regional and subregional institutions—including ESCAP and SASEC—increasingly play key roles by helping the government develop cross-sectoral policies that bring national agendas to a regional level through a wide variety of mechanisms. Yet, as regional cooperation gains momentum, governments need to further explore ways to involve and reach out to other stakeholders, including those in the private sector driving economic integration.
With globalization continuing to shape the future, countries and regions will become highly interconnected. This publication asks what forms those connections will take and who will benefit. Central to the work of ESCAP, this study aims for a future where new opportunities brought about by greater regional connectivity are open to everyone, most especially to the region's least developed countries, landlocked developing countries, and small island developing states.
Related Link: