India, ASEAN Economic Ministers Meeting Discussed Trade, Investment Agreements
10 September 2019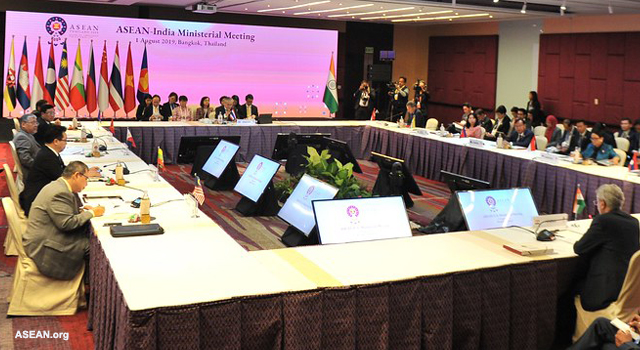 Ten economic ministers from the Association of Southeast Asian Nations (ASEAN) and the Minister of Commerce and Industry of the Government of India held consultations on 10 September 2019 in Bangkok, Thailand. This 16th ASEAN Economic Ministers-India (AEM) meeting was co-chaired by Mr. Jurin Laksanawisit, Deputy Prime Minister and Minister of Commerce of the Government of Thailand and Mr. Piyush Goyal, Minister of Railways and Commerce and Industry of the Government of India.
Outcomes of the meeting include
Acknowledgment of the ratification of the ASEAN-India Trade in Services Agreement by all parties in 2018;
Acknowledgment of continuing efforts to ratify the ASEAN-India Investment Agreement;
Endorsement of the proposed review of the ASEAN-India Trade in Goods Agreement to make the ASEAN-India Free Trade Agreement (FTA) more user-friendly and simple, and conducive to helping facilitate trade among businesses. The Ministers also welcomed the recommendations of the ASEAN-India Business Council to further promote the potential of bilateral trade through utilizing the ASEAN-India FTA; and
Commendation of the outcomes of the 4th India-ASEAN Expo and Summit held on 21-23 February 2019 in New Delhi, India as an ideal platform for investors, business leaders, industry captains and policy makers to enhance their engagements through mutual trade and investment.
India is ASEAN's 6th largest trading partner and 6th largest source of foreign direct investment among ASEAN Dialogue Partners, highlighted the news release by the Government of India.
Related Links: