Nepal Stakeholders Urge Three-country Implementation of the BBIN MVA
11 August 2019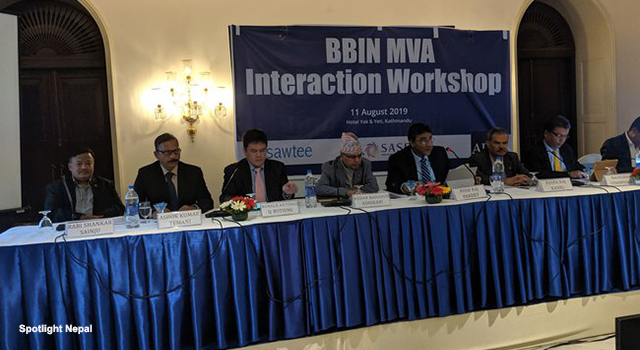 An Interaction Workshop on the benefits, impact, and implications for Nepal of the implementation of the Bangladesh-Bhutan-India-Nepal (BBIN) Motor Vehicle Agreement (MVA) among Bangladesh, India, and Nepal was organized by the South Asia Watch on Trade, Economics and Environment (SAWTEE) and the Asian Development Bank (ADB) on 11 August 2019 in Kathmandu, Nepal. The consultation engaged officials from the Government of Nepal, and attendees representing private sector groups, civil society, academia, and think tanks.
In his address, Chief Guest Mr. Puspa Raj Kadel, Vice Chairperson of the National Planning Commission, underscored that the BBIN MVA is crucial for expanding the trade relationship between member countries, and needs to be executed soon.
Mr. Kedar Bahadur Adhikari, Secretary of Commerce and Supplies, Ministry of Industry, Commerce, and Supplies (MoICS), Government of Nepal, remarked the major importance Nepal accords the BBIN MVA. With the Government putting a high priority on connectivity, the Ministry has advocated for implementation of the MVA after certain ambiguities in the agreement are clarified in the protocol.
Mr. Ronald Antonio Q. Butiong, Director for Regional Cooperation and Operations Coordination, South Asia Department, ADB, highlighted that the three countries—Bangladesh, India, and Nepal—have a good opportunity to make progress on the agreement. Implementing the MVA would simplify the process of transporting goods, which could help decrease logistics cost.
Mr. Butiong also expressed hopes that the workshop was able to clarify misconceptions about the agreement. One such misconception cited by the Himalayan Times was the notion that MVA implementation would result in a 'free for all' in cross-border transport operations. Mr. Butiong further clarified that MVA has restrictions on the number of permitted vehicles, allowable routes and border crossing points, and technical specifications of vehicles. He also reiterated that foreign transport operators will not be allowed to conduct domestic transport in the host country.
The workshop arrived at a consensus that Nepal should participate in the three-country implementation. Stakeholders also urged the Government to work with Bangladesh and India toward implementing the BBIN MVA at the soonest possible time.
The Government of Bhutan gave the three countries consent for entry into force of the BBIN MVA, releasing a statement through its Ministry of Foreign Affairs in April 2017. In its statement, Bhutan underscored the importance of connectivity in expanding economic cooperation, and acknowledged BBIN as a platform for strengthening regional cooperation.
The BBIN MVA, a landmark framework agreement to facilitate the seamless flow of passenger, personal and cargo vehicular traffic between and among the BBIN countries, was signed on 15 June 2015 in Thimphu, Bhutan.
Related Links: