Thailand Port Deal to Boost Trade with Bangladesh, India, and Sri Lanka
16 August 2019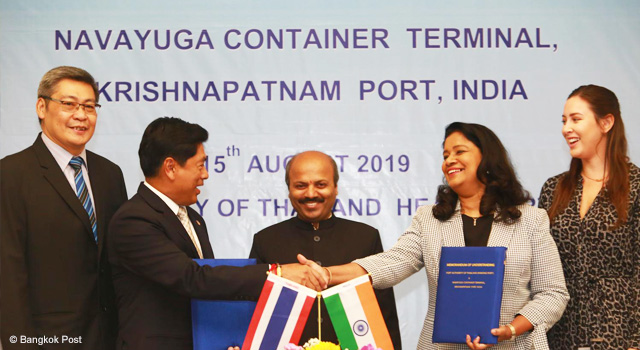 Thailand and India have signed on 16 August 2019 a memorandum of understanding (MOU) for the development of Ranong Port in Thailand and the promotion of a new maritime route between Ranong Port and India's Krishnapatnam Port on the Andaman coast. The new maritime route will reduce transport and logistics costs for business operators.
The MOU aims to reduce the travel time between Thailand and India from 10 to 15 days to 7 days. The Ranong Port development will increase the port's capacity to handle goods to 500,000 twenty-foot equivalent units per year by 2022. The port's imports and exports are also projected to grow 9%–10% this year.
The agreement is part of Thailand's policy to strengthen trade with Bangladesh, India, and Sri Lanka under the Bay of Bengal Initiative for Multi-Sectoral Technical and Economic Cooperation (BIMSTEC) framework.
Related Link: