Ship Transports Cargo from Bhutan to Bangladesh via India for First Time
18 July 2019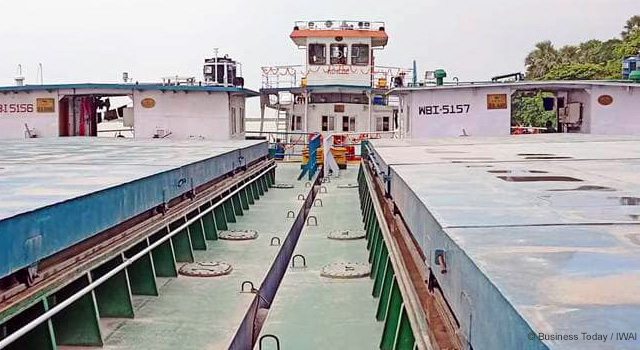 An Indian cargo ship carrying a shipment of stone aggregate from Bhutan has arrived in Bangladesh. It passed through the Brahmaputra River in India. It was the first time the Indo-Bangladesh Protocol Route was used to transport cargo between Bangladesh and Bhutan, saving an estimated 30% in transportation cost and traveling at half the time it would take for the shipment to travel by land.
The Inland Waterways Authority of India (IWAI) shipped the cargo of 1,000 tonnes of stone aggregate, used for construction, in a single trip. Such cargo used to be transported by 50 to 70 trucks, according to IWAI Chairperson Pravir Pandey. Travel time using the waterway route reduces travel time by 8 to 10 days and brings down logistics cost. Use of the new route is expected to strengthen relations among Bangladesh, Bhutan, and India.
The shipment was received in an inaugural ceremony held on 18 July 2019 in Narayanganj City, Bangladesh, and attended by Ms. Riva Ganguly Das, high commissioner of India to Bangladesh; Mr. Sonam Rabgye, Bhutan ambassador to Bangladesh; and Safwan Sobhan, vice chairperson, Bashundhara Group.
The ship MV AAI of the Inland Waterways Authority of India was flagged off via video conferencing on 12 July by Mr. Mansukh Mandaviya, minister of state for shipping, India.
The Dhubri Port in Assam, India, was also inaugurated after a revamp of its customs facility, jetty, and two warehouses.
Related Links: