Commentary: Improving Facilitation through the Use of Electronic Seals
26 June 2019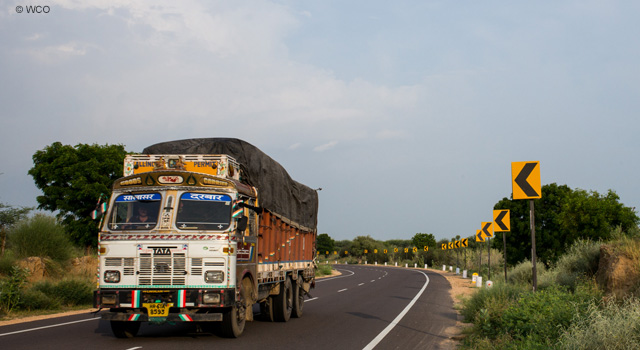 Replacing mechanical seals with electronic sealing devices has enabled Indian Customs to reduce the risk of fraud and security threats while extending higher levels of facilitation to traders. The electronic seals have allowed India to improve its ranking in World Bank's Doing Business Report 2019, particularly in the category "trading across borders."
This commentary appeared on World Customs Organization News.
Improving Facilitation through the Use of Electronic Seals
India figured among the top 10 countries that improved its ranking in the World Bank's Doing Business Report 2019. The most remarkable progress was made in the category "trading across borders," where India's rank jumped from 146 to 80, the highest jump made by a country. Among several customs measures explaining this evolution is the adoption of electronic seals.
To facilitate trade operations, Indian Customs allows cargo to be moved without the collection of duty and without physical inspection between ports and Inland Container Depots (ICDs) and other off-dock facilities, as well as between ports and bonded warehouses and between bonded warehouses. The same applies for international transit and transshipment operations.
Trusted exporters can also transport goods from their factories to ports without undergoing inspection or examination of cargo. Exports play a very important role in the Indian economy: approximately 2.5 to 3.5 million consignments are shipped every year, which has given rise to an annual export turnover of more than $300 billion.
Such processes and movements traditionally required cargo to be secured by affixing one-time-use mechanical seals. However, though mechanical container seals have been used for many years, they have many flaws: there are no proper standards prescribed for such seals; the seals are not considered fool-proof as they do not provide reliable alerts in case of any breach; and the seals do not provide visibility on the movement of a shipment.
This led to more customs controls, which usually translated into an increase in the transaction costs as well as transaction times, with no assurance of securing the supply chain. Against this background, Indian Customs decided to replace mechanical seals with electronic sealing devices, a move that enabled the administration to reduce the risk of fraud and security threats while extending higher levels of facilitation to traders.
Exports
On 1 July 2017, India introduced a single tax called the Goods and Services Tax (GST), which is levied on the supply of goods or services consumed in India. There is not GST on exports, and if transactions leading to exports are charged, the government would refund the money in full.
In order to offer more facilitation and reduce the chance of fraud at export, such as cargo being changed or added to as it makes its way to a port after having been sealed at the factory or the export premises, Indian Customs decided, in 2017, to require trusted traders to affix electronic radio frequency identification (RFID) seals to containerized cargo at export. RFID e-seals are radio frequency devices that transmit container information when interrogated by an RFID portal or mobile reader. These e-seals enable customs to retrieve data on the cargo by scanning the seal chip.
To save exporters the cost of having to acquire write/read devices, Indian Customs did not exercise the option of requiring data to be written into the seal. Instead, data is stored on cloud hosted platforms. Once an export shipment is stuffed and loaded onto a trailer, the exporter enters the seal number, container number, vehicle registration number and export declaration number into a cloud hosted web application. On arrival at the port or at toll plazas en route to the port, customs officers access the data linked to the container's RFID seal by using fixed or handheld RFID readers. The cost of the system to exporters is nominal, and so far the benefits seem to outweigh the costs.
The e-seals are tamper-evident, bringing an additional layer of security: if a seal is tampered with, it cannot be read or will indicate that it has been tampered with. This has reduced the chances of pilferage or theft of cargo during transport, and could also help an exporter to detect pilferage and monitor cargo movements, providing all-round cargo protection.
The scheme is open to authorized economic operators (AEOs) and to exporters operating under a "self-sealing" procedure, which permits them to stuff and seal at factory premises or warehouses under the supervision of a customs officer.
Exporters are free to source their seals from authorized vendors who will electronically provide customs with the tag identification number (TID)/unique serial number of the seals sold. Each vendor has developed a web application where the data is stored, and provides scanners to customs to access information related to the e-seal.
Only customs, the exporter, and the e-seal vendor can access data from the container's e-seal, but the technology has shown great potential for use in cross-border data sharing for security purposes. The use of a cloud-hosted solution technically allows an RFID seal to be read at the destination port as well as en route.
To do away with various difficulties such as field officers having to handle multiple scanners, receiving and collating data from multiple web applications and ensuring the integrity of databases, Indian Customs is developing a Universal Web Application (UWA) that eliminates the need for numerous web applications and multiple readers/scanners. As such, e-seal providers would have to ensure that the data and the e-seal are linked to a TID. Furthermore, the UWA will be integrated into Indian Customs' existing Electronic Data Interface System, which will allow for better risk analysis.
Going forward, customs also intends to integrate the UWA into the existing Container Tracking System in which containers with RFID tags are scanned at locations such as toll plazas, highways, port entrances and terminals, providing cargo flow visibility and logistics efficiencies. The idea being that e-seals affixed to containers will be able to be read by the same devices. Such integration would enable containers to be tracked without any additional investment in infrastructure. This integrated approach would further improve risk management pertaining to export cargo.
The path of adoption is rather high. As of 31 March 2019, over 12,500 exporters have used approximately 1.6 million e-seals.
Transit
India is a transit country for cargo destined for and being exported from neighboring countries such as Bangladesh and Nepal. The transit processes are based on bilateral arrangements with these countries. To secure transit operations, Indian Customs has deployed its Electronic Cargo Tracking System (ECTS), a GPS-based e-sealing system.
The ECTS allows customs administrations to monitor the position, movement and speed of a cargo vehicle as well as the integrity of the seal during transport from origin to destination. In addition, the ECTS automatically issues "time stamps" that enable cargo evacuation times to be measured.
Leveraging the higher levels of security and monitoring ability offered by the ECTS, Indian Customs is considering introducing a simplified and more facilitative transit system. With support from the Asian Development Bank, a new procedure with reduced documentary requirements and re-engineered automated processes has been trialed.
Under this system, the shipping line, in collaboration with the Indian overland transporter, conducts the transit formalities in India and delivers the goods to, for example, Nepal. In a departure from the earlier system, the Nepal trader is not required to undertake any formalities in India. Preliminary results indicate significant savings thanks to reduced overall transit times and documentary requirements. A complete transparent system has been designed with no role for intermediaries or hidden charges.
The ECTS also supports another simplified procedure: off-border clearance. India has 114 land customs stations, some of which have inadequate infrastructure. Under the off-border clearance scheme, regulatory processes are conducted at inland facilities (such as dry ports), with border points acting as mere "pass through" gateways. This has helped traders conduct their compliance related activities at locations close to their premises, and reduced congestion at border points.
Additionally, the ECTS is also instrumental in managing the movement of cargo originating in Bangladesh and having to go through Indian gateways to be exported. This initiative is a fine example of regional cooperation—a country accessing global markets using the gateways of another, under a facilitative and secure process.
The "track and trace" features, high security seals, advance cargo information, and the simplification and automation of processes have enhanced the risk management capabilities of Indian Customs, enabling more precise targeting and the facilitation of legitimate trade.