Maldives Signs $10 million National Single Window Project with ADB
18 June 2019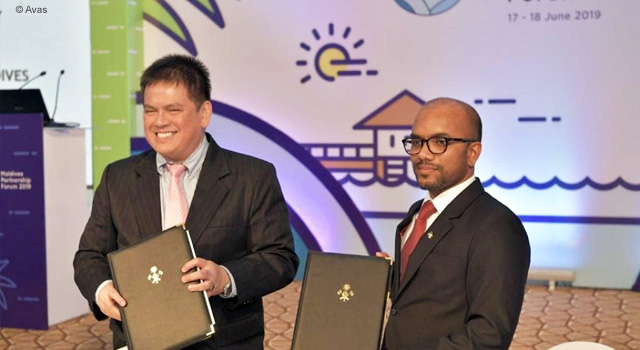 The Government of Maldives has signed a $10 million project with the Asian Development Bank (ADB) for its National Single Window Project. The agreement was signed on 17 June 2019 at the sidelines of the Maldives Partnership Forum by Finance Minister Ibrahim Ameer and Mr. Ronald Butiong, Director for Regional Cooperation and Operations Coordination, South Asia Department, ADB.
Maldives is establishing a national single window system to help standardize the country's customs and international trade procedures, under the South Asia Subregional Economic Cooperation (SASEC) partnership. The system will allow local entrepreneurs, traders, and service providers to transact business using electronic forms, thereby reducing delays and lowering costs for the clearance of goods at Maldives borders. The national single window project will also help regulatory agencies maintain controls over fees and duties on imports or exports.
ADB funding includes a loan of $5 million and a grant of $5 million from ADB's Asian Development Fund. Technical assistance will also be provided to finalize the legal framework for operating the national single window system, capacity development of regulatory agencies, and pilot-testing of a blockchain system for tracking goods and documentation.
The national single window is in line with the operational priorities for trade facilitation under the South Asia Subregional Economic Cooperation (SASEC) program (grouping Bangladesh, Bhutan, India, Maldives, Myanmar, Nepal, and Sri Lanka). It is aligned with ADB's Strategy 2030, which promotes the use of innovating technology and delivering integrated solutions.
Related Links: