India Extends US$1 Billion Loan to Nepal for Energy, Infrastructure Projects
4 August 2014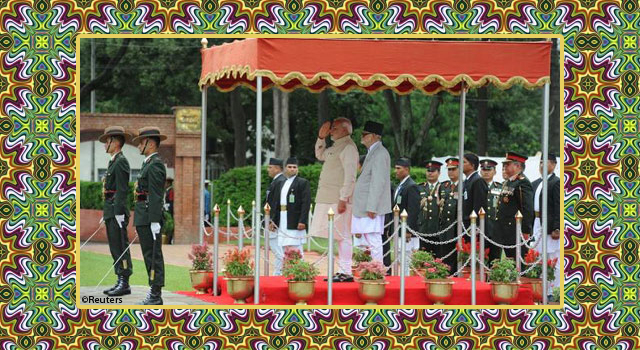 Indian Prime Minister Narendra Modi made a two-day visit to Kathmandu, Nepal on 3-4 August 2014, the first bilateral visit by an Indian Prime Minister in 17 years. He was welcomed by his counterpart, Nepalese Prime Minister Sushil Koirala, along with dignitaries from Nepal and the Embassy of India in Kathmandu, at the Tribhuvan International Airport.
Prime Minister Modi and Prime Minister Koirala lauded the smooth relations between India and Nepal, including the re-activation of Nepal-India Joint Commission, and emphasized the need to further explore ways to enhance sub-regional cooperation in the areas of trade, transit, connectivity, and hydropower. They recommended convening regular meetings and directed officials to expedite the implementation of current and future projects to ensure timely decision-making in bilateral institutional mechanisms, and in the implementation of several bilateral economic cooperation projects.
Modi Proposes "HIT" Projects
At a speech delivered to the Parliament of Nepal, Modi announced India's desire to help Nepal through "HIT"—High Ways, Information Technology, and Transmission lines—and offered an additional soft loan of US $1 billion for energy projects and infrastructure development. These power projects will tap Nepal's vast hydropower potential and mutually benefit the two countries by significantly lessening power shortages in Nepal, and providing India with a less costly source of energy. Concerned energy authorities from the Investment Board of Nepal and GMR Group of India were given 45 days to finalize negotiations on existing hydropower projects, as well as conclude the Nepal-India Power Trading Agreement. Modi emphasized that power trade with India could help Nepal reach its goal of becoming a developed country.
Transport projects were also discussed in the high-level meeting. Tangible outcomes include
Agreement by India to assist in the construction of a multi-lane bridge over Mahakali River at Mahendranagar, establishing a vital trade and transit linkage of the far western region of Nepal with the Indian cities of Uttar Pradesh, Delhi, and Uttarakhand, and consideration of the proposal to construct motorable bridges at the Indian border points of Jhulaghat and Darchula;
Consideration of Nepal's request to India for assistance in completing the eastern sector of Mid Hill Highway;
Endorsement of the finalization and signing of the revised Rail Service Agreement and Motor Vehicle Agreement; and
Recommendation to expedite construction of cross-border railways at five border points and four integrated check posts.
The transport projects were expected to boost Nepal's import/export by facilitating smoother cross-border movement of cargo and people. India further expressed its intention to help narrow Nepal's trade deficit, including consideration of Nepal's request to remove countervailing duties imposed by Indian authorities on specific Nepalese products, and relax quantitative restrictions on vegetable fats, copper products, acrylic yarn, and zinc oxide. Modi also recognized the critical importance of transit rights for Nepal, and agreed to work with Koirala in further simplifying and enhancing transit procedures.
Koirala expressed appreciation for Modi's work in strengthening India's relations with its neighboring countries, opening up meaningful opportunities for dialogue to further advance regional cooperation under the South Asian Association for Regional Cooperation (SAARC) framework. He also accepted an invitation to visit India. Modi will return to Nepal for the SAARC Summit in November this year.
Related Links: