Expanding Energy Generation Critical to Bangladesh's Growth
6 May 2019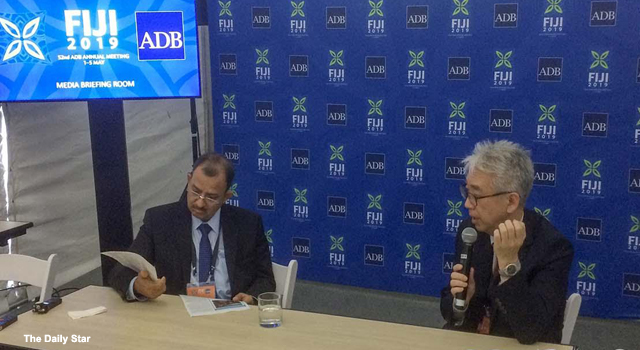 Mr. Hun Kim, Director General, South Asia Regional Department, Asian Development Bank expressed high hopes for Bangladesh in a press briefing held on the sidelines of the 52nd Annual Meeting of the ADB Board of Governors.
"Bangladesh is really becoming a success story of the region—pulling itself ahead of the game. We have big expectations—we are betting big on the future of Bangladesh," said Mr. Kim.
He underscored that Bangladesh's ability to expand its energy generation would be critical to the country's growth. The South Asia Subregional Economic Cooperation (SASEC) Program, an ADB-supported regional integration and cooperation program, could be instrumental to enhancing Bangladesh's energy security, one of the country's key challenges.
The SASEC program brings together Bangladesh, Bhutan, India, Maldives, Myanmar, Nepal, and Sri Lanka in a project-based partnership that aims to promote regional prosperity, improve economic opportunities, and build a better quality of life for the people of the subregion. Its operational priorities focus on four main sectors: transport, trade facilitation, energy, and economic corridor development.
Since 2001, SASEC has financed 12 energy loan and grant projects in the region amounting around $1.50 billion. In Bangladesh, SASEC has financed loan and grants projects in energy worth around $382 million. The $159 million Bangladesh-India Electrical Grid Interconnection, committed in 2010, was one of SASEC's first energy projects. It helped establish cross-border interconnection between the western electrical grid of Bangladesh and the eastern electrical grid of India by financing the interconnection facilities in Bangladesh. This supported the exchange of electricity between the two countries.
Mr. Ronald Butiong, Director, Regional Cooperation and Operations Coordination Division, South Asia Regional Department, ADB, noted that the SASEC program is working on establishing a regional power market to help expand and diversify the region's energy supply. This will allow countries in the region with surplus energy to contribute to other countries' energy needs and secure power reliability. A planned meeting in India in October aims to take this matter forward.
The SASEC program is also strengthening the region's transport and trade facilitation. It is working on building a modern and effective customs administration to speed up time and reduce the cost of moving goods, vehicles, and people across borders.
Mr. Kim emphasized the importance of logistics for South Asia. "You need to move people and goods fast and at low cost," he shared.
The press briefing with ADB officials discussed Bangladesh's growing implementation capacity. In 2018, ADB provided Bangladesh with $2.2 billion financing, higher than its normal allocation of $1.5 billion. Mr. Kim lauded Bangladesh's steady improvement in implementing projects and the speed of their economy's growth. He noted that Bangladesh's capacity to implement large volumes of infrastructure projects is critical to realizing their growth ambitions. Money, he emphasized, will never be a bottleneck.
SASEC countries share a common vision of boosting intraregional trade and cooperation in South Asia, while also developing connectivity and trade with Southeast Asia through Myanmar, to the People's Republic of China, and the global market.

Related Links: