Brief: Achieving Prosperity by Developing Sri Lanka's Connectivity
12 April 2019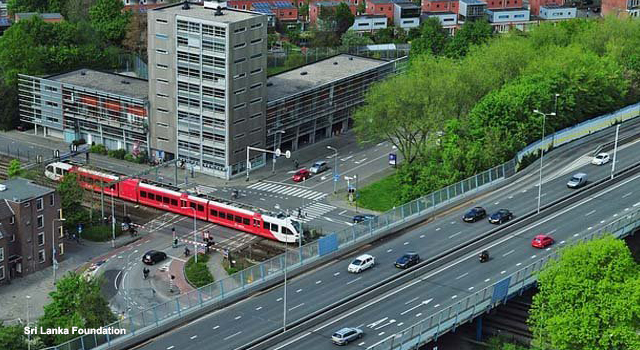 Sri Lanka aims to become the center of connectivity in South Asia. Leveraging on its strategic location, Sri Lanka is working toward becoming the region's hub port—the Indian Ocean's logistic, shipping, distribution, and maritime hub. In his column on the Daily News, Mr. Sugeeswara Senadhira discussed Sri Lanka's ongoing projects to restore internal connectivity and boost its transport infrastructure, to complement this aim. These include:
The Kottawa-Makambura Multimodal Transport Hub. Recently inaugurated and built according to international standards, it houses road transport services for passengers and goods. It is equipped with facilities such as online ticketing, banking, and bill payment. Solar power is used to supply electricity. In a ceremony for the terminal, Sri Lanka President Maithripala Sirisena highlighted the need to equip transport facilities with the latest technology. He added that a country vying for foreign investment needs an efficient and reliable rail and road connectivity;
The 113-kilometer railway line from Matara to Kataragama. The Matara-Beliatta Railway Extension, its first phase, is in progress. The second phase will begin from the Beliatta to Hambantota, and the third, the Hambantota to Kataragama section;
Other ongoing initiatives geared toward improving ports within the country, including the Colombo Port Expansion Project; Hambantota New Port Project; Galle Port Development Project; and the Trincomalee Harbour Development; and
Other road and rail connectivity projects that links to proposed special economic zones.
Mr. Senadhira emphasized that restoration of rail, road, and waterways involve minimal investment, while resulting in maximum benefits within a short time frame.
He also underlined that Sri Lanka believes in the need to explore ways to augment maritime cooperation in the Indian Ocean, and foster closer linkages among the Association of Southeast Asian Nations (ASEAN), Bay of Bengal Initiative for Multi-Sectoral Technical and Economic Cooperation (BIMSTEC), and the Indian-Ocean Rim Association (IORA).
Related Links: