India Formalizes Assistance for the Government of Bhutan's 12th Plan
27 April 2019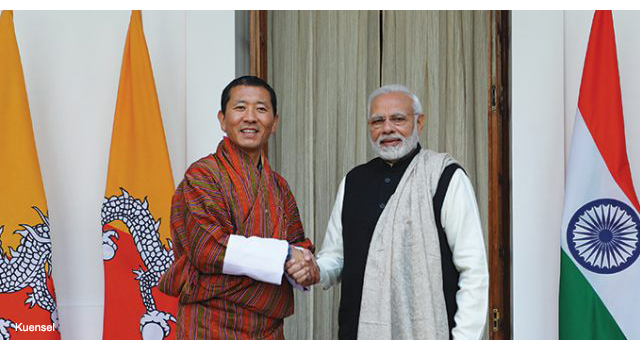 The Government of India formalized its assistance to the Government of Bhutan's 12th Plan at the first development talk for the 12th Plan between the two countries. India committed around $706.9 million (Nu49 billion) in support of the 12th Plan – with $649.2 million (Nu45 billion) for development assistance and around $57.7 million (Nu4 billion) for Bhutan's trade support facility. The bilateral meeting also discussed its implementation.
The funding will continue to support the 20 ongoing projects between Bhutan and India, taking up around $19.9 million (Nu1.38 billion) of the financing. Furthermore, the Government of India endorsed 31 new projects under the 12th Plan.
For the trade support facility, the financial assistance would be used to develop trade infrastructure, automate and boost trade facilities, and support the private sector in promoting export and establishing export-financing facility. The Government of India agreed to process the first tranche worth around $115,000 (Nu8 million) to boost economic linkages and promote bilateral trade.
Bhutan and India also discussed hydropower. They agreed to move forward with the Kholongchhu project, since India's guideline on cross-border electricity trading was already revised. India also expressed optimism that they will soon reach an agreement regarding Sunkosh hydropower, and said that they are looking forward to inaugurating the Mangdechhu hydropower project. Mr. A. Gitesh Sarma, External Affairs Secretary of the Government of India, reiterated India's growing energy requirement. He underlined that cooperation in hydropower benefits both countries.
Bhutan has also requested facilitating a third internet gateway from India's northeastern region to Bhutan's eastern region, as well as assistance in space technology.

Related Link: