Traders Urge Simplification of Trade Processes at Benapole
17 April 2019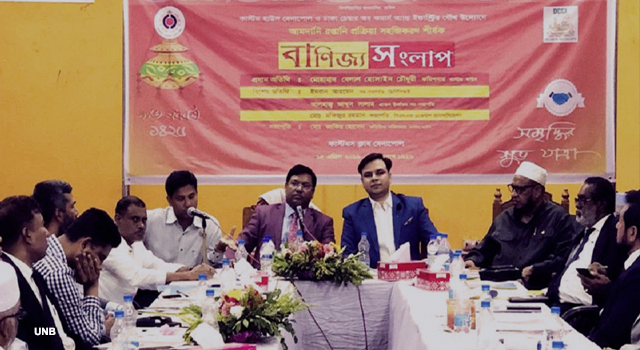 The Dhaka Chamber of Commerce and Industry (DCCI) and the Benapole Custom House jointly organized a meeting urging the Government to simplify trading processes at the Benapole Land Port. The speakers included an 11-member delegation from DCCI, members of Benapole C and F Association, and port traders. The meeting recommended capacity enhancement, infrastructure development, and a shift to a 24-hour operating schedule to facilitate smoother export and import processes.
Mr. Imran Ahmed, DCCI Vice President, underlined that the port handles 150,000 to 200,000 (1.5 to 2 lakh) metric tons of goods, despite its capacity of 40,000 tons. To improve processes, he underlined the need to build sufficient sheds for goods, resolve testing facility issues for perishable items, and simplify clearance. He also urged reducing hidden costs. He recommended expanding the Jashore-Benapole highway to a six-way lane, establishing high speed internet, building a science lab, and ensuring uninterrupted power supply, for smoother facilitation of import and export.
Mr. Ahmed added that 24 hour operation and sufficient sheds and warehouses at Petrapole port, the nearest Indian port to Benapole, is also necessary.
Mr. Mohammad Belal Hossain, Commissioner, Benapole Custom House, highlighted that Benapole port is in the process of being fully automated. They are working on a four-step process that will simplify Customs procedures. This includes shifting to a modern software, and applying a special seal to reduce clearance time.
Majority of trade facilitated through the Benapole port is trade between Bangladesh and India. In 2017-208, Benapole port collected around $577 million (around Tk48.73 billion) revenue.
Related Link: