Bhutan Prime Minister Lotay Tshering Visits Bangladesh
15 April 2019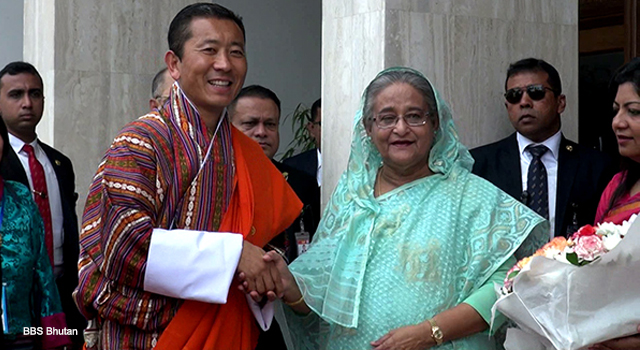 Bhutan Prime Minister Lotay Tshering paid a State Visit to Bangladesh on 12-15 April 2019, on the invitation of Bangladesh Prime Minister Sheikh Hasina. The two Prime Ministers discussed a wide range of bilateral cooperation, including transit and connectivity, energy, trade and investment, education, and health, and signed several memorandum of understandings (MoUs).
Outcomes of the visit included:
Acknowledgment of the expanding bilateral trade between Bangladesh and Bhutan, and emphasized the importance of further deepening their ties. The two Prime Ministers agreed to allow duty free, quote free access to 16 additional items proposed by Bhutan, and 10 items proposed by Bangladesh, and expedite this process;
Agreement to finalize the pact on the Movement of Goods in Transit between Bangladesh and Bhutan soon, by the next Commerce Secretary Level meeting;
Promotion of the ongoing discussions among Bangladesh, Bhutan, and India on the proposed trilateral cooperation in hydroelectric power. The two Prime Ministers noted that a trilateral meeting of the power secretaries could be held in this regard. They underscored that collaboration in this sector can further strengthen regional cooperation, encourage use of renewable energy and mitigate climate change challenges;
Prime Minister Tshering's underlining of Bangladesh's offer of internet bandwidth and satellite services to Bhutan. He took Bangladesh up on this offer;
Discussion of cooperation in other regional and international fora namely, SAARC, BIMSTEC, and the UN. Bangladesh and Bhutan noted commonality on their perspective and positions on all major issues and agreed to continue to work together for mutual benefit;
Signed SOP for the operationalization of the MoU on Use of Inland Waterways for Transportation of Bilateral Trade and Transit Cargoes between the Government of the People's Republic of Bangladesh and the Royal Government of Bhutan, in the presence of the two Prime Ministers; and
Signed other MoUs, including:


MoU between Bangladesh Agricultural Research Council (BARC), Ministry of Agriculture of Bangladesh and the Department of Agriculture, Ministry of Agriculture and Forests of Bhutan (MoAF)
MoU between Bangladesh Public Administration Training Centre (BPATC) and Royal Institute for Management (RIM) of Bhutan
MoU between Bangladesh Parjatan Corporation and Tourism Council of Bhutan
MoU between the Ministry of Health and Family Welfare, Government of the People's Republic of Bangladesh and the Ministry of Health, Royal Government of Bhutan
The visit of the Bhutanese Prime Minister to Bangladesh continues the tradition of regular high-level exchanges of visits between the two countries, further strengthening their bonds of friendship.
Related Links: