21st ASEAN-India Senior Officials' Meeting Agrees to Pursue Maritime Cooperation and Connectivity
12 April 2019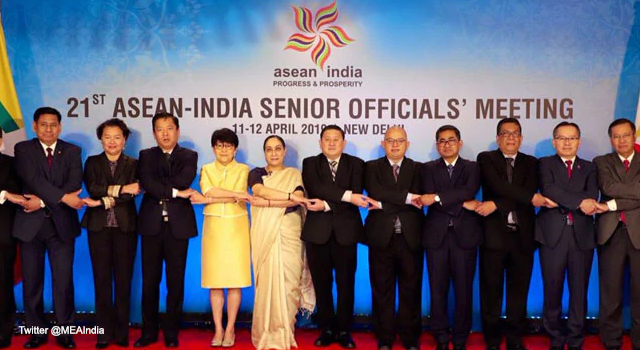 The 21st Association of Southeast Asian Nations (ASEAN) and India Senior Officials' Meeting (SOM) was held on 11-12 April 2019 in New Delhi, India. The Meeting reviewed the strategic partnership between ASEAN and India, and assessed the future direction of cooperation in political-security, economic, and socio-cultural pillars. Regional and international issues of interest to India and the ASEAN region were also discussed.
The Meeting agreed to
Deepen Maritime Cooperation. In line with this, ASEAN and India SOM will pursue enhanced cooperation in the subsector of Blue Economy;
Pursue ASEAN-India connectivity. The Meeting welcomed the commissioning of the Economic Research Institute for ASEAN and East Asia Study on the Trilateral Highway and its extension to Lao PDR, Cambodia and Viet Nam, and the proposal on formation of Digital Villages in the ASEAN countries, under digital connectivity;
Further deepen cooperation on financial matters, and strengthen the ASEAN Secretariat;
Impart urgency to Cooperation in Renewable Energy and hold an ASEAN-
India Conference on Renewable Energy in 2019. The Energy and Resources Institute (TERI) and ASEAN Centre for Energy (ACE) were tasked to co-partner for this project.
Ms. Vijay Thakur Singh, SOM Leader and Secretary (East), Ministry of External Affairs, Government of India, and Mrs. Busaya Mathelin, SOM Leader and Permanent Secretary, Ministry of Foreign Affairs, Government of Thailand, co-chaired the Meeting.
The ASEAN-India partnership is being implemented under the "Plan of Action (2016-2020) to implement the ASEAN-India Partnership for Peace, Progress and Shared Prosperity."
Thailand is the Country Coordinator of the ASEAN-India dialogue partnership for 2018-2021. This year, it assumed the ASEAN Chairmanship.
Related Link: