ADB Country Director for Bangladesh Urges Harnessing Regional Power Trade
29 March 2019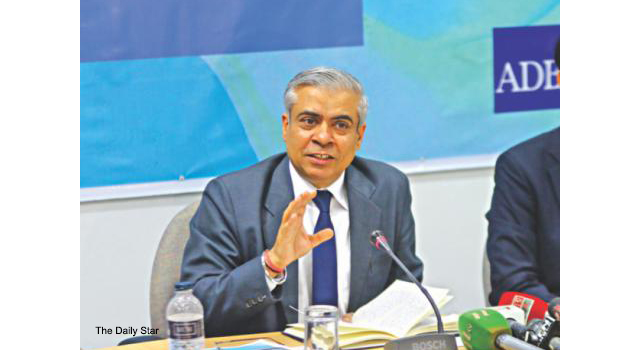 Mr. Manmohan Parkash, Country Director, Asian Development Bank (ADB) Bangladesh, commended Bangladesh's progress in the energy sector. He underlined the success in collaborations between the Government of Bangladesh and its development partners in responding to the challenges in the power sector, but reminded them that today's new challenges call for enhancement of partnership and innovation.
On Bangladesh's drive to achieve sustainable and inclusive development, the ADB Country Director urged the country to continue working toward providing last mile connectivity for electricity access, developing proper energy mix by investing in renewables, harnessing regional power trade, establishing a dynamic natural gas pricing and electricity tariff mechanism, attracting private sector investment, and developing the sector in the context of climate change.
Mr. Parkash participated in a working group meeting of the Local Consultative Group at Bidyut Bhaban. The meeting on the energy sector discussed various themes, including extended regional cooperation in thermal and hydropower generation, industrial development and diversification of industrial base, and transforming energy demand patterns.
Mr. Ahmad Kaikaus, Secretary, Power Division, and Mr. Abu Hena Md Rahmatul Muneem, Secretary, Energy and Mineral Resources Division, of the Ministry of Power, Energy, and Mineral Resources of the Government of Bangladesh, attended the meeting. Other development partner representatives, including Agence Française de Développement, Asian Infrastructure Investment Bank, Department for International Development, European Investment Bank, European Union, Islamic Development Bank, Deutsche Gesellschaft für Internationale Zusammenarbeit GmbH, Japan International Cooperation Agency, KfW, United States Agency for International Development, United Nations Development Programme, were also present.
Bangladesh is a member country of the ADB-supported South Asia Subregional Economic Cooperation (SASEC) Program. It promotes cooperation among Bangladesh, Bhutan, India, Maldives, Myanmar, Nepal, and Sri Lanka, in four key sectors, including energy. To date, Bangladesh has three energy loan and grant projects under the SASEC Program worth around $382 million.
Related Link: