India-Nepal Agree to Include Inland Waterways in Trade and Transit Treaties
20 March 2019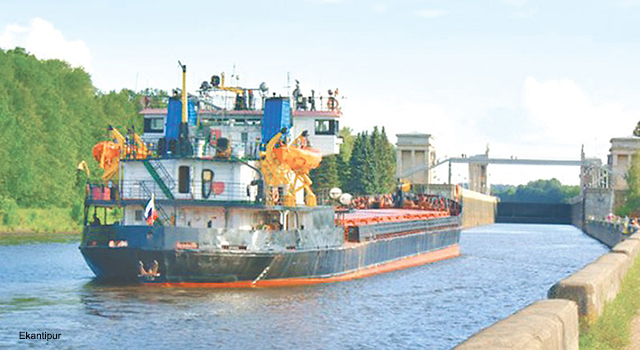 India and Nepal met to review the two countries' bilateral transit and trade treaties and agreed to discuss inland waterways facilities for third country trade via India, which could reduce transit cost significantly once implemented.
Mr. Ravi Shankar Saiju, joint secretary at the Ministry of Commence, Nepal, and Mr. Bhupinder Singh Bhalla, joint secretary at the Department of Commerce, Ministry of Commerce and Industry, India, were in New Delhi, India, on 19 March 2019 for the meeting.
India will incorporate inland water facilities in separate trade and transit treaties that will allow Nepal to navigate inland waterways from Haldia port to the Nepal border. Nepal will be able to use Indian facilities to reach Haldia port in Kolkata by way of the Koshi and Gandak rivers.
India and Nepal have also agreed to install in April electronic cargo tracking facilities for cargo bound for Nepal.
Nepal has set up an Office of the Inland Waterways, while a technical team is preparing a report to identify navigation navigation points in Nepal for cargo coming from Haldia via Sahibgunj and Kalughat in India.
India Prime Minister Narendra Modi and Nepal Prime Minister KP Sharma agreed to explore the use of inland waterways during their meeting in India last year.
Related Link: