New ADB-Bhutan Country Partnership Strategy Approved
24 July 2014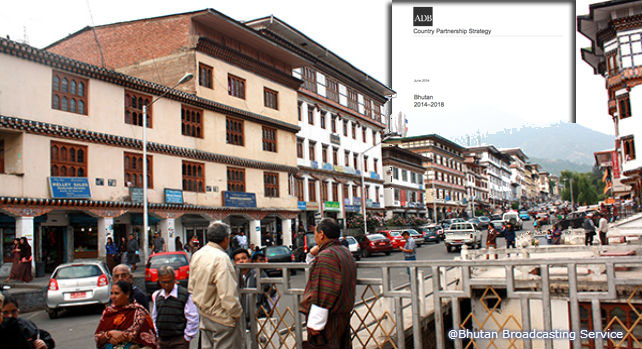 Asian Development Bank (ADB) Board of Directors approved Bhutan's Country Partnership Strategy (CPS) 2014-2018 to support the country's 11th Five-Year Plan (2013-2018) that focuses on self-reliance and inclusive, green socioeconomic development. Through this more inclusive country strategy, Bhutan will be able to broaden its economic base and promote equitable growth. 
The new CPS will support ADB's three strategic pillars of inclusive growth, environmentally sustainable growth, and regional cooperation and integration (RCI). ADB will continue to support key infrastructure in energy, transport, and urban sectors to enhance trade facilitation. It will also increase efforts in hydropower generation, renewable energy development, and energy efficiency. Since Bhutan's economic growth is largely driven by a capital-intensive hydropower sector, ADB assistance in developing Bhutan's hydropower and transmission network will enhance regional energy trade and energy security.
Bhutan aims to meet all national development goals by 2020 as emphasized in its five-year plan, enhance the quality of life of vulnerable sectors of society, and achieve carbon-neutral development. Reduction of income and multidimensional poverty, diversification beyond hydropower resources, and strategic infrastructure development are needed to achieve these objectives.
ADB's RCI flagship program – South Asia Subregional Economic Cooperation (SASEC) – will provide assistance in connectivity enhancement, transit facility and logistics improvement, and trade facilitation promotion. Most of the infrastructure development assistance laid out in the CPS will be anchored on the SASEC program. This will promote cross-border trade, and contribute to economic growth and job creation, addressing youth unemployment concerns.
Related Links:
Press Release: New ADB-Bhutan Partnership to Support Inclusive, Green Growth
BBS: ADB-Bhutan Partnership to Support Inclusive, Green Growth
ADB Country Partnership Strategy: Bhutan 2014-2018