Meeting of the SASEC Trade Facilitation and Transport Working Groups
29-30 Oct 2013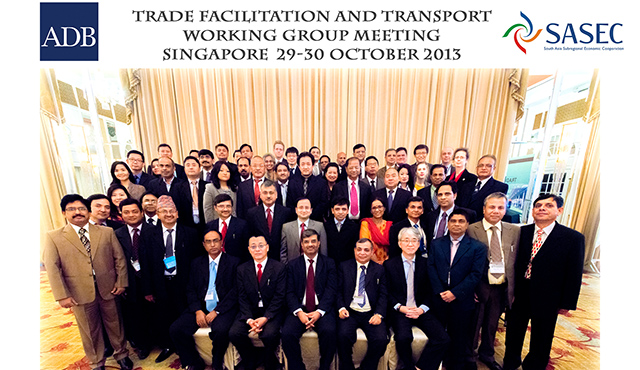 Transport
Considerable progress was noted in implementing priority sections of transport corridors and connectivity projects; ADB is providing/plans to provide almost $2.5 billion in support of connectivity projects;
Criteria for future SASEC projects may include
the listing of projects in regional transport studies,
projects that enhance multimodality/inter-modality;
projects that complete missing links of in-country connections;
projects that complete missing sections of SAARC corridors ("last mile connectivity"); and
projects that are part of principal trade corridors, where enhanced transit facilities and trade facilitation measures would yield maximum benefits from expanded trade/commerce.
Trade Facilitation
Good progress was made since November 2012, including (i) implementation of the SASEC Trade Facilitation Program loans/grants to Bangladesh, Bhutan, and Nepal; (ii) capacity building and knowledge sharing activities; (iii) mobilization of financial resources for trade facilitation; and (iv) performance measurement through the conduct of business process analysis. Support was given for the proposed SASEC Trade Facilitation Strategic Framework, setting out future initiatives in (i) Customs modernization and harmonization, (ii) standards and conformity assessment, (iii) cross-border facilities improvement, (iv) through-transport facilitation, and (v) institution and capacity building.
Delegates from the Governments of Bangladesh, Bhutan, India, and Nepal, led by Secretaries and Joint Secretaries of relevant ministries, participated at the TFTWG Meeting, together with staff and consultants of the Asian Development Bank (ADB). The heads of country delegations and Mr. Hun Kim, Deputy Director General, ADB South Asia Department co-chaired the various sessions of the Meeting.