3rd Meeting of the BIMSTEC Transport Connectivity Working Group
8 Dec 2020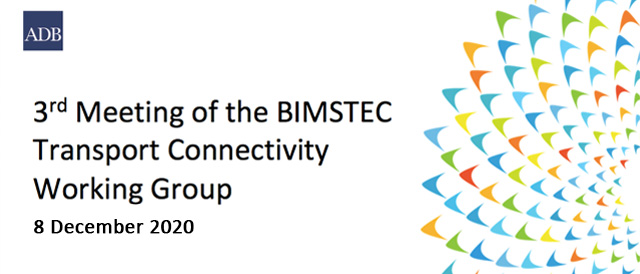 The 3rd Meeting of the Bay of Bengal Initiative for Multi-Sectoral Technical and Economic Cooperation (BIMSTEC) Transport Connectivity Working Group was held virtually on 8 December 2020. The workshop, hosted by the Government of India, discussed the Master Plan for Transport Connectivity to BIMSTEC.
The Regional Cooperation and Operations Coordination Division of the South Asia Department, Asian Development Bank, presented the Master Plan. The document was finalized at the meeting and was endorsed by the Working Group.
The document will be presented for endorsement at the upcoming BIMSTEC Senior Officials' Meeting. The document is also set for approval at the 17th BIMSTEC Ministerial Meeting and adoption at the 5th BIMSTEC Summit.
The Master Plan identifies both hard and soft infrastructure in the BIMSTEC subregion, as well as capacity building, transport access agreements, and the harmonization of rules, regulations, policies, and measures related to transport between and among BIMSTEC countries. The Master Plan identifies 267 projects of construction, expansion and modernization of transport infrastructure involving an estimated cost of $126 billion.
The meeting was attended by Ms. Riva Ganguly Das, Secretary (East) of India's Ministry of External Affairs; Mr. Tenzin Lekphell, Secretary-General of BIMSTEC Secretariat; and over 60 delegates from BIMSTEC countries. The BIMSTEC member countries are Bangladesh, Bhutan, India, Myanmar, Nepal, Sri Lanka, and Thailand.