ADB-NACIN Training on Coordinated Border Management
20-21 Oct 2020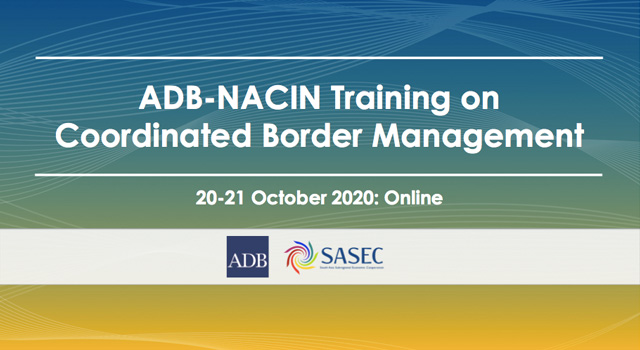 The Asian Development Bank (ADB), in partnership with the National Academy of Customs, Indirect Taxes and Narcotics (NACIN) of the Government of India, held a workshop on Coordinated Border Management for SASEC Customs Administrations on 20–21 October 2020. The virtual workshop aimed to help Customs authorities better understand the benefits and impact of coordinated border management in enhancing trade facilitation. Coordinated border management improves regulatory effectiveness, particularly during critical periods.
The workshop
Shared the status of coordinated border management implementation in each respective SASEC member country;
Explained the basic features, pillars, and benefits to be derived from adopting coordinated border management;
Identified critical success factors and steps toward effective implementation of coordinated border management at both the national and cross-border levels; and
Discussed the way forward for implementing coordinated border management models appropriate to the SASEC subregion.
Mr. Ronald Butiong, Director for Regional Cooperation and Operations Coordination, South Asia Department, ADB, delivered the opening remarks. Ms. Neeta Lall Butalia, Director General, NACIN, welcomed the participants.
The ADB-NACIN knowledge sharing program aims to enhance SASEC countries' efforts to comply with provisions of the World Trade Organization Trade Facilitation Agreement. Previous workshops organized for SASEC Customs administrations include workshops on customs valuation and database systems, customs cooperation, authorized economic operator program, and time release study.