Bangladesh: Trade and Transport Facilitation Monitoring Mechanism National Validation Workshop
31 Jul - 1 Aug 2016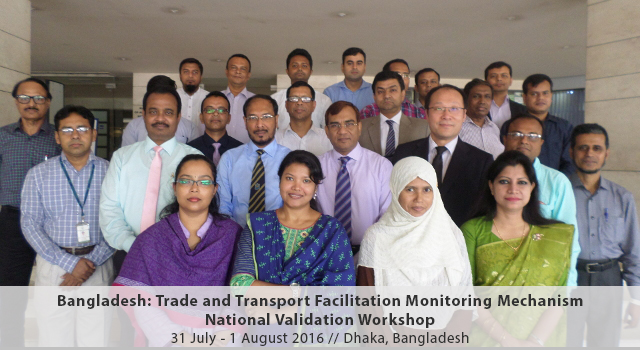 The Bangladesh National Board of Revenue, in collaboration with the Asian Development Bank (ADB) and the United Nations Economic and Social Commission for Asia and the Pacific (ESCAP), held a National Validation Workshop on 31 July-1 August 2016 in Dhaka, Bangladesh, to present to stakeholders preliminary results and findings from studies conducted under the Trade and Transport Facilitation Monitoring Mechanism (TTFMM) in Bangladesh.
The Workshop:
Delivered a presentation on TTFMM to increase participants' understanding of TTFMM and its key methodologies, including business process analysis (BPA), time-cost-distance (TCD)/corridor performance measurement and monitoring (CPMM), and time release studies (TRS).
Reviewed trade processes of (i) export of kitchen and plastic tableware from Bangladesh to Bhutan and (ii) import of lentils from Nepal to Bangladesh. Use-case diagrams, activity diagrams, and process descriptions were presented for discussion;
Discussed key bottlenecks on trade facilitation, as part of BPA—findings from the BPA underscored the benefits of adopting a Single Window system in Bangladesh;
Presented results from the TRS conducted at Burimari and Banglabandha; and
Reviewed results from TCD/CPMM, which confirmed their usefulness in monitoring the progress of transport and trade facilitation.
Mr. Md. Firoz Shah Alam, Member, Customs (Audit, Modernization and International Trade), National Board of Revenue, Bangladesh, delivered the opening remarks, which emphasized the importance of TTFMM in enhancing trade facilitation in Bangladesh, and in implementing the Bangladesh-Bhutan-India-Nepal Motor Vehicles Agreement.
Mr. Md. Nojibur Rahman, Honorable Senior Secretary, Internal Resources Division, Ministry of Finance and Chairman, National Board of Revenue, Bangladesh, delivered closing remarks where he emphasized that the TTFMM will enhance trade and transport facilitation in the country, helping creating job opportunities for farmers, rural smallholders and women, and contributing to achieving the Sustainable Development Goals.
More than 30 participants from the Government and private sector attended the Workshop, including members of Bangladesh's NTTFC.
The TTFMM is an integrated monitoring system that tracks the progress of transport and trade facilitation in Bangladesh, Bhutan, and Nepal to optimize trade and transport processes. The scope of the baseline studies of TTFMM were decided through a series of regional and national training workshops held in November 2013 (Bangkok, Thailand), in March 2014 (Phuentsholing, Bhutan), and in April 2014 (Dhulikhel, Nepal, and Dhaka, Bangladesh). Since 2014, ADB and UNESCAP have been supporting Bangladesh, Bhutan, and Nepal in establishing sustainable TTFMM, in close collaboration with the relevant national trade facilitation committees and/or lead agencies.
The TTFMM is part of the SASEC Trade Facilitation Strategy 2014-2018.
Related Link: