Bhutan Customs Act 2015: Consultation Workshop on Rules and Regulations
10-12 Sep 2015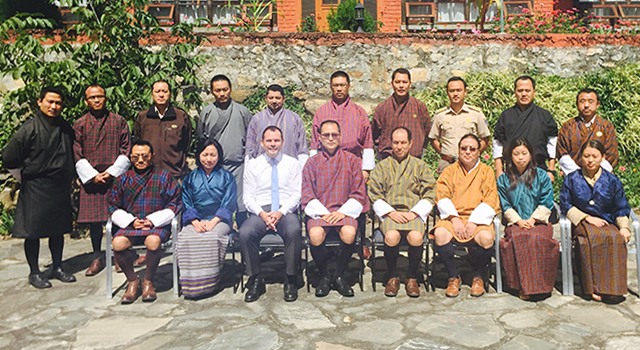 Bhutan's Department of Revenue and Customs (DRC) conducted a 3-day consultation meeting on 10-12 September 2015 in Paro, Bhutan, to present and discuss the draft Rules and Regulations associated with the Customs Act of Bhutan to key Customs officials.
The consultation meeting provided the platform to
Discuss and clarify issues related to Customs policy and procedures amongst DRC management, key Customs officials from regional offices, and international Customs expertise
Discuss practical problems faced by field officials in implementing the existing rules and regulations
Further simplify and harmonize the draft Customs Rules and Regulations 2015, in keeping with international practices and national requirements
Validate and finalize many of the 28 identified areas that require Rules and Regulations
Collect inputs and suggestions from Customs field officials for finalization of the Rules and Regulations 2015
Identify critical issues on the draft Customs Rules and Regulations 2015 that require collaboration and inputs from other stakeholders.
Following accession to the Revised Kyoto Convention (RKC) in 2014, Bhutan revised and amended its national legislation on Customs to bring it into line with the provisions of the RKC. As a result, a new Customs Act was prepared and will be submitted to the winter session of Parliament in December 2015. To accompany the new Customs Act, DRC are developing revised Rules and Regulations, with the assistance of international Customs experts.
Director, DRC Mr. Yonten Namgyel opened the meeting, and international Customs expert Mr. Dietmar Jost elaborated the Agenda for participants. Eighteen senior Customs officials from DRC management — from headquarters and Regional Revenue and Customs Offices — participated in the meeting. Technical guidance and facilitation was provided by an ADB international consultant in Customs modernization and reform. Funding for the consultation meeting was provided by a national technical assistance for Bhutan from the Japan Fund for Poverty Reduction, administered by the Asian Development Bank (ADB). ADB also provided logistical arrangements for the meeting.