Roundtable Meeting for SAARC Study on Roadmap for Achieving South Asia Economic Union
24-25 Mar 2014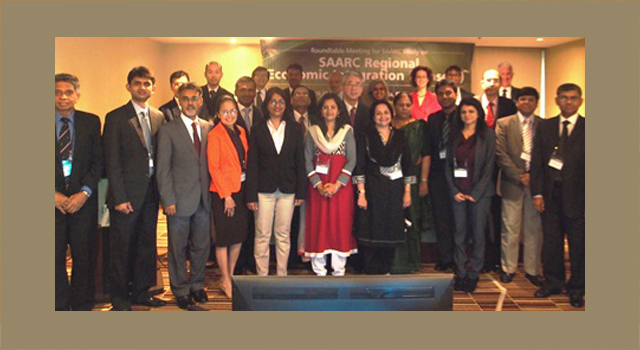 The Roundtable Meeting on South Asia's economic integration discussed trade, investments, trade facilitation, connectivity, and other building blocks of South Asia Economic Union (SAEU). Member countries of the South Asian Association for Regional Cooperation (SAARC) requested the Asian Development Bank (ADB) to undertake a study examining the extent of regional cooperation and integration already underway in the region, and prepare a "Roadmap for Achieving SAEU (Second Phase)" study.
The Roundtable Meeting deliberated on the approach, sequencing, and priority areas for South Asia's regional cooperation and integration. There were 15 presentations delivered on the study, focusing on the following areas:
Outline of the study in moving towards SAEU – ADB Senior Economist Mr. Cuong Nguyen presented the background of the study, progress made and suggested approach for South Asian economic integration while Dr. Selim Raihan of the University of Dhaka, examined the unique characteristics of South Asia and provided an overview of the chapters
The progress, challenges and prospects of South Asian Free Trade Area (SAFTA) – Dr. Ather Maqsood Ahmed of the National University of Sciences and Technology in Pakistan provided an in-depth analysis of tariff and non-tariff factors inhibiting regional integration within South Asia and made suggestions to liberalize trade in the region
Informal trade in SAARC – Dr. Nisha Taneja, Professor, Indian Council for Research on International Economic Relations (ICRIER), India, discussed formal and informal trade channels and policy recommendations
Services liberalization – Dr. Rupa Chandra, Professor of Indian Institute of Management provided the services performance and status of services negotiations in South Asia including cross-cutting challenges and recommendations
Regional investment cooperation – Dr. Khondaker Golam Moazzem, Additional Research Director, Center for Policy Dialogue (CPD), Bangladesh, provided the state of foreign direct investment (FDI) policies, FDI trends in South Asia, including challenges and preparedness
Labor mobility and remittances – Dr. Arpita Mukherjee, Professor, ICRIER, India provided the background of labor mobility in trade agreements, examined the current state and potential for labor mobility and remittances in South Asia, and recommended policy measures for achieving greater cooperation and integration in South Asia towards SAEU
Trade facilitation and transport connectivity – Prabir De, Senior Fellow, Research and Information System for Developing Countries (RIS), India, discussed regional trade facilitation policies and benefits
Economic corridors and subregional cooperation – Prabir De provided the rationale for South Asia economic corridors and the priorities for South Asia
Regional integration and poverty reduction – Dr. Saman Kelegama, Executive Director, Institute for Policy Studies of Sri Lanka provided the direct and indirect linkages of regional integration and poverty, as well as other areas of cooperation such as food security and energy
Identification of priority sectors for fast track liberalization and quantitative assessment of phases of regional economic integration – Dr. Selim Raihan quantified the impacts of different phases of regional integration in South Asia using a GTAP model
Integrating South Asia with regional and global value chain – Dr. Nobuaki Yamashita, Senior Lecturer, La Trobe University, Australia discussed global production networks in South Asia, FTA issues and multinational operations
Capital and financial markets – Mr. Stephen Wells presented the integration of capital markets in SAARC member countries including movements towards harmonization and greater integration
Political economy of regional integration in South Asia – Dr. Amitav Acharya, UNESCO Chair in Transnational Challenges and Governance, American University, USA discussed the political and security aspects of SAARC and the intersection between political and economic cooperation, including institutional capacity reforms
Institutional arrangement for SAEU – Mr. Cuong Nguyen, Senior Economist (Regional Cooperation), ADB presented the analysis of institutional architecture in South Asia and proposed recommendations for strengthening SAARC institutions
Ms. Lakshmanan Savithri, SAARC Director for Trade and Finance and Mr. Hun Kim, ADB Deputy Director General, South Asia Department, opened the meeting. Mr. Hun Kim in his opening remarks suggested further examination of how SASEC can assist SAARC in furthering regional cooperation in South Asia.
SAARC representatives, South Asia policy experts, and ADB staff chaired the sessions. Discussants of sessions included representatives from academia, leading experts and researchers in South Asia and officials from international organizations.
ADB and SAARC Secretariat arranged and facilitated the event. ADB financed the Roundtable Meeting.