Energy Results
Energy demand in the SASEC subregion is expected to increase over the next decade resulting from economic growth and rising per capita incomes and energy consumption. With energy resources in South Asia unevenly spread, regional energy cooperation could help countries develop their energy resources in an optimal manner to lower energy costs, improve regional energy security, and contribute to climate change mitigation. SASEC initiatives in the energy sector support improvement of energy trade infrastructure, developing a regional power market by harmonizing legal and regulatory frameworks, and developing low-carbon alternatives and conservation and energy efficiency measures.
WORKING PAPERS
total items: 4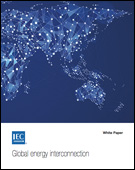 Global Energy Interconnection
Sustainable energy and climate change are major global concerns, yet three billion people around the world rely on wood, coal, or animal waste for cooking and heating. The interconnection of grids would open up opportunities for resource sharing and bring clean energy to much more of the world. This paper assesses benefits and outlines policy, technical, and economic preconditions for global energy interconnection. It analyzes global transmission scenarios and evaluates their impact on energy supplies and the environment. It also gives recommendations for setting standards, and where stakeholder involvement is necessary.

Energy Security, Sustainability, and Affordability in Asia and the Pacific
Energy security, sustainability, and affordability from 2010 to 2035 for Asian Development Bank's Asia and Pacific members are calculated in this working paper, including potential benefits of integrating energy systems regionally. Based on business-as-usual and alternative scenarios, outlook on SASEC member countries by 2035 include (i) dramatic improvement in Bhutan's energy efficiency, (ii) slight decrease in Bangladesh's energy intensity—although carbon dioxide will increase in its primary energy mix, as dependence on fossil fuels rise, and (iii) decrease in energy self-sufficiency of SASEC member countries by 2035, but improved energy affordability. Since renewable energy sources and importation of energy may be capital-intensive, requiring additional tariff support, regional cooperation can enhance affordability and energy security—with Bhutan and Nepal standing to benefit greatly from energy integration in South Asia.

A Connectivity-Driven Development Strategy for Nepal: From a Landlocked to a Land-Linked State
Transforming Nepal from a landlocked into a land-linked state, the authors argue, could be key to unlocking the country's much-awaited growth. With its strategic location between India and the People's Republic of China, a connectivity-driven development strategy could energize Nepal's lackluster post-conflict economic performance. Further, Nepal implements a multi-track approach to promoting regional cooperation and integration in connectivity with its neighbors, reinforced through participation in South Asian Association for Regional Cooperation, Bay of Bengal Initiative for Multi-Sectoral Technical and Economic Cooperation, and South Asia Subregional Economic Cooperation. By identifying ten priority projects that could further boost Nepal's connectivity, the paper also discusses how strengthening Nepal's transport, energy, and trade links could benefit the region. However, the authors also warn against "internal threats" to Nepal's development—corruption and the country's difficult political situation.

Industrialization and Global Value Chain Participation: An Examination of Constraints Faced by the Private Sector in Nepal
This paper examines the constraints behind and beyond Nepal's borders that hinder its full participation in global value chains (GVC). Basing the analysis on recent and relevant publications, key economic data, and interviews with policymakers and stakeholders, the authors explain how weak and uncertain industrial policy has led to de-industrialization. They also looked at the effects of inadequate infrastructure, energy shortage, and inefficient transit. Failures in coordination, shallow regional integration and non-tariff barriers also bar further growth of Nepal's industrial development and GVC participation. The authors recommend necessary domestic reforms for behind-the-border constraints, and subregional partnerships—facilitated through the South Asia Subregional Economic Cooperation program—for beyond-the-border challenges.