Energy Results
Energy demand in the SASEC subregion is expected to increase over the next decade resulting from economic growth and rising per capita incomes and energy consumption. With energy resources in South Asia unevenly spread, regional energy cooperation could help countries develop their energy resources in an optimal manner to lower energy costs, improve regional energy security, and contribute to climate change mitigation. SASEC initiatives in the energy sector support improvement of energy trade infrastructure, developing a regional power market by harmonizing legal and regulatory frameworks, and developing low-carbon alternatives and conservation and energy efficiency measures.
WORKING PAPERS
total items: 6

Renewable Energy Sector in Emerging Asia: Development and Policies (TIID Working Paper No. 1/2017)
Rapid economic growth in emerging Asia has led to a critical increase of greenhouse gas emissions. Transitioning to renewable energy sources would help reduce emissions. However, massive investment is needed to make that transition. According to this paper, targeted policy interventions are needed to facilitate trade and investment in the renewable energy sector and create "green jobs" in the low-carbon and resource-efficient sectors.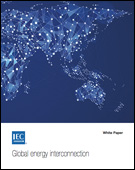 Global Energy Interconnection
Sustainable energy and climate change are major global concerns, yet three billion people around the world rely on wood, coal, or animal waste for cooking and heating. The interconnection of grids would open up opportunities for resource sharing and bring clean energy to much more of the world. This paper assesses benefits and outlines policy, technical, and economic preconditions for global energy interconnection. It analyzes global transmission scenarios and evaluates their impact on energy supplies and the environment. It also gives recommendations for setting standards, and where stakeholder involvement is necessary.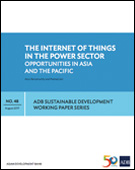 The Internet of Things in the Power Sector: Opportunities in Asia and the Pacific
Asia's power sector struggles to upgrade power systems and keep up with growing demand. The Internet of Things (IoT) has the potential to transform the power sector by optimizing operations and lowering costs for consumers. The power sector is already reaping the benefits of adoption of smart meters and smart thermostats, two consumer-oriented IoT applications. The Asian Development Bank has committed to smart grid projects in India, through a Green Energy Corridor and Grid Strengthening Project, and Maldives, through the Preparing Outer Islands for Sustainable Energy Development (Phase 1).
Source: Arun Ramamurthy and Pramod Jain

Seaborne Trade between South Asia and Southeast Asia
This Asian Development Bank Institute paper examines trade and the main ports around the Bay of Bengal to identify projects that will enable trade and contribute to improved maritime infrastructure. It also reviews the nature of trade and trade patterns, particularly through the Indian East Coast Corridor study. The paper develops further strategic options for seaport adjustment around the Bay of Bengal to support trade evolution, policy assessment, and other constraints.
Source: David Wignall, Mark Wignall

A Connectivity-Driven Development Strategy for Nepal: From a Landlocked to a Land-Linked State
Transforming Nepal from a landlocked into a land-linked state, the authors argue, could be key to unlocking the country's much-awaited growth. With its strategic location between India and the People's Republic of China, a connectivity-driven development strategy could energize Nepal's lackluster post-conflict economic performance. Further, Nepal implements a multi-track approach to promoting regional cooperation and integration in connectivity with its neighbors, reinforced through participation in South Asian Association for Regional Cooperation, Bay of Bengal Initiative for Multi-Sectoral Technical and Economic Cooperation, and South Asia Subregional Economic Cooperation. By identifying ten priority projects that could further boost Nepal's connectivity, the paper also discusses how strengthening Nepal's transport, energy, and trade links could benefit the region. However, the authors also warn against "internal threats" to Nepal's development—corruption and the country's difficult political situation.

Simulating World Trade in the Decades Ahead: Driving Forces and Policy Implications
This working paper considers economic prospects up to the year 2100, offering assumptions about key exogenous variables, providing a baseline for climate change policy evaluation, and discussing sectoral and trade issues. The paper combines an economic growth model with a multi-sectoral model to construct scenarios for around 150 countries up to a maximum time horizon of 2035, with forecasts on a number of key variables such as energy prices, demographics, etc. It suggests that trends toward increased regionalization may be reversed, with multilateral trade relationships gaining in importance.