Energy Results
Energy demand in the SASEC subregion is expected to increase over the next decade resulting from economic growth and rising per capita incomes and energy consumption. With energy resources in South Asia unevenly spread, regional energy cooperation could help countries develop their energy resources in an optimal manner to lower energy costs, improve regional energy security, and contribute to climate change mitigation. SASEC initiatives in the energy sector support improvement of energy trade infrastructure, developing a regional power market by harmonizing legal and regulatory frameworks, and developing low-carbon alternatives and conservation and energy efficiency measures.
PUBLICATIONS
total items: 10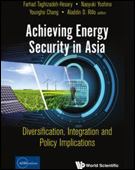 Regional Integration in South Asia: Trends, Challenges and Prospects
This study presents an assessment of trade and economic cooperation among South Asian nations, explores emerging challenges, and highlights policy issues to foster regional integration. It provides perspectives on potential new areas of cooperation such as investment, regional supply chains, energy, and cross border transport networks. The four areas of focus are: potential gains from South Asian regional integration, key areas for cooperation resulting in effective regional integration, country perspectives of regional cooperation, and case studies on bilateral cooperation. This volume aims to further contribute to policy discourse on effective regional cooperation with perspectives from Bangladesh, India, Maldives, Nepal, Pakistan, and Sri Lanka.

Statistical Yearbook for Asia and the Pacific 2014
The Statistical Yearbook contains comparative statistics and facts about the 58 regional members and associate members of the Economic and Social Commission for Asia and the Pacific. It includes brief analyses of 32 key development features such as energy supply and use, international trade, and transport, among others. In energy, the region's production structure is highly resource-intensive, although per capita energy use is low. The section on international trade recommends focusing on raising domestic value-added rather than increasing gross exports in Asia and the Pacific. Finally, investment in environmentally sustainable transport is encouraged.
Source: United Nations Economic and Social Commission for Asia and the Pacific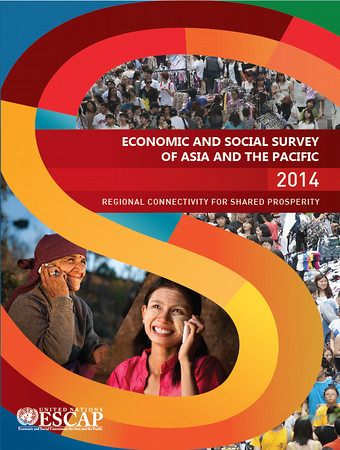 Economic and Social Survey of Asia and the Pacific 2014
This 2014 edition of UNESCAP's flagship publication emphasizes the importance of furthering regional connectivity in Asia-Pacific—a region which, despite significant reductions in poverty levels, is now witnessing rising income inequality, both within and between countries. It calls for driving the region's growth by exploiting the interdependence and synergies of five elements: trade and transport connectivity, ICT networks, energy connectivity, people-to-people networks, and promotion of knowledge-based economies, and advocates approaching connectivity as a regional public good.
Source: UNESCAP

Assessing the Costs of Climate Change and Adaptation in South Asia
This book discusses the economic costs and benefits of unilateral and regional actors on climate change adaptation in Bangladesh, Bhutan, India, the Maldives, Nepal, and Sri Lanka. It provides the total economic loss throughout the 21st century and estimates the funding required for adaptation measures to avert potential losses. Huge impacts are likely on vulnerable sectors in the region, with South Asia losing on average nearly 2% of its gross domestic product by 2050. Results of the study will aid climate change adaptation in the region, including initiatives for regional cooperation.

Asian Development Outlook 2014: Fiscal Policy for Inclusive Growth
The Asian Development Outlook, ADB's flagship economic publication provides comprehensive macroeconomic analysis in Asia including growth projections by country and region. The Asian Development Outlook 2014 forecasts that developing Asia will grow 6.2% in 2014 and 6.4% in 2015. South Asia remains one of the slowest growing subregions—although growth is forecast to improve by 5.3% in 2014 and 5.8% in 2015.
Source: Asian Development Bank

Reducing Poverty by Closing South Asia's Infrastructure Gap
This report takes a critical look at inter-and intra-regional infrastructure of South Asia and explores inequality of access across space and time. It gives an approximate total cost of regional infrastructure needs and investment trends in the South Asia region, along with a proposed framework on ranking of infrastructure needs. The report also examines better usage of existing resources and policy options to help the poorest gain better access to infrastructure. Finally, it recognizes the enormity of infrastructure deficiencies in South Asia and acknowledges that a good mix of infrastructure investment and supportive reform implementation will enable the region to close the infrastructure gap.

Energy Trade in South Asia: Opportunities and Challenges
The South Asia Regional Energy Study was completed as an important component of the regional technical assistance project Preparing the Energy Sector Dialogue and South Asian Association for Regional Cooperation Energy Center Capacity Development. It involved examining regional energy trade opportunities among all the member states of the South Asian Association for Regional Cooperation. The study provides interventions to improve regional energy cooperation in different timescales, including specific infrastructure projects which can be implemented during these periods.
Source: Sultan Hafeez Rahman / Priyantha D. C. Wijayatunga / Herath Gunatilake / P. N. Fernando

Infrastructure for a Seamless Asia
The study reviews regional infrastructure being enhanced through regional cooperation in Asia and examines major issues and challenges. It suggests a framework for pan-Asian infrastructure cooperation, anchored on a long-term vision of creating a seamless Asia that will not only enhance the region's competitiveness and extend its global reach, but also help reduce poverty and promote greater environmental sustainability.
Source: Asian Development Bank / Asian Development Bank Institute