3rd Border Meeting of Customs Administration of Bangladesh, Bhutan, India, and Nepal (BBIN)
21 Dec 2020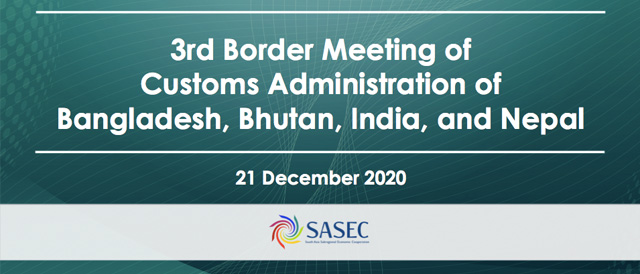 The 3rd Border Level Meeting of Customs Administrations of Bangladesh, Bhutan, India, and Nepal (BBIN) was held virtually on 21 December 2020. The meeting was initially set for 17 March 2020 in Siliguri, India, but was rescheduled due to the coronavirus disease (COVID-19) pandemic.
Ms. Bullo Mamu, Undersecretary of Land Customs, Central Board of Indirect Taxes and Customs of India, welcomed the country delegates to the meeting, which she co-hosted with the South Asia Subregional Economic Cooperation (SASEC) Secretariat.
Participating countries affirmed the need to continue such border meetings to enhance customs-to-customs cooperation at field level and to resolve operational issues.
This meeting also:
discussed challenges faced in facilitating trade at border crossing points, and
discussed ways to improve customs cooperation and coordination in solving operational difficulties.
The meeting is one of the subregional projects under the SASEC Custom Subgroup. It was attended by representatives from the participating SASEC countries of Bangladesh, Bhutan, India, and Nepal.