First National Expert Mission on Customs Valuation in Bhutan
22-26 Jun 2015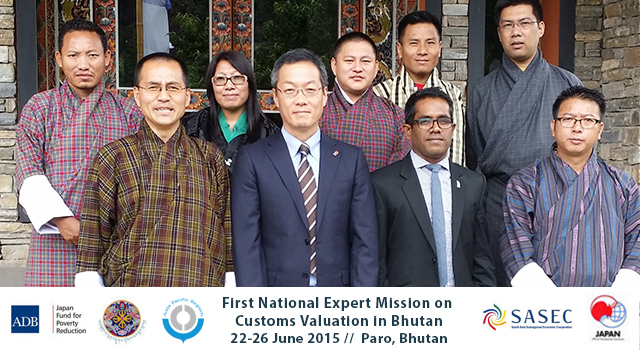 The Bhutan Department of Revenue and Customs (DRC), Ministry of Finance conducted the first national Expert Mission on 22-26 June 2015 in Paro, Bhutan, in collaboration with the World Customs Organization Asia Pacific Regional Office for Capacity Building (WCO ROCB A/P), to develop a Standard Operating Procedure (SOP) for Customs valuation control in Bhutan, ideally through post-clearance audit.  
Outcomes of the Expert Mission included:
Identified processes to be improved to enhance Customs valuation control, together with recommended countermeasures;
Standard Operating Procedure on Import Taxation focusing on Customs Valuation and PCA updated; and
Agreements on schedule and deliverables for the final activity of DRC under the multiyear assistance initiative.
This Expert Mission was conducted by DRC, together with resource persons from WCO ROCB A/P and the Maldives Customs Service. Six DRC officials participated in the process. The Mission was supported by technical assistance from the  Japan Fund for Poverty Reduction, administered by the Asian Development Bank (ADB).
In 2013, ADB and WCO ROCB A/P launched a joint subregional train-the-trainer on Customs valuation multiyear assistance initiative to support participating countries' efforts to strengthen efficient management of Customs valuation control through the use of post-clearance audit. The first WCO-ADB Joint Subregional Workshop was held in Colombo, Sri Lanka in February 2014, and the second Joint Subregional Workshop was held in Male, the Maldives 22–24 October 2014. SASEC provides a regional platform for this multiyear initiative through implementation of the SASEC Trade Facilitation Strategic Framework, approved by members in 2014.
With guidance and assistance from WCO experts, the Joint Subregional Workshops enabled SASEC member countries to develop national action plans that identify prioritized measures to improve implementation of Customs valuation systems and ensure realistic and achievable goals for implementation. DRC officially approved Bhutan's National Action Plan for Customs Evaluation on 1 May 2015, and the Expert Mission to develop the SOP for Customs valuation control was the first priority measure.
Related Link: