BIMSTEC Trade Negotiating Committee Moves Toward Finalizing the BIMSTEC Free Trade Agreement
19 November 2018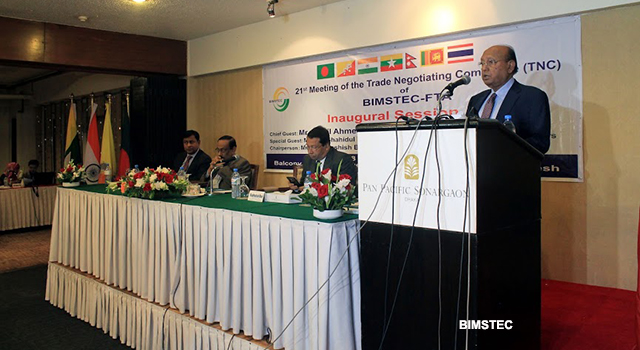 Delegates from the Bay of Bengal Initiative for Multi-Sectoral Technical and Economic Cooperation (BIMSTEC) Member States—Bangladesh, Bhutan, India, Myanmar, Nepal, Sri Lanka, and Thailand—attended the organization's 21st Trade Negotiating Committee meeting in Dhaka, Bangladesh on 18-19 November 2018. This meeting focused on finalizing the draft texts of the Agreement on Trade in Goods, Agreement on Cooperation and Mutual Assistance in Customs Matters, and Agreement on Dispute Settlement Procedures and Mechanisms. These agreements are necessary to the BIMSTEC Free Trade Agreement (FTA). The Meeting also advanced the draft agreements on Investment, Services, and Trade Facilitation.
Mr. Tofail Ahmed, Commerce Minister, Government of Bangladesh inaugurated the Meeting. In his address, he stressed on the need to implement the FTA among member countries of BIMSTEC. He also urged the members to work on increasing intra-regional trade.
Mr. M. Shahidul Islam, Secretary General, BIMSTEC, expressed hope that the BIMSTEC FTA will come into operation with the signing of the Agreement on Trade in Goods by 2019.
BIMSTEC officials estimate that an FTA in the BIMSTEC region could help intra-BIMSTEC trade grow to $240 billion from the current $40 billion.

Related Links: