Bangladesh, India Hold Joint Group of Customs Meeting, Work on Easing Petrapole-Benapole Congestion
9 October 2018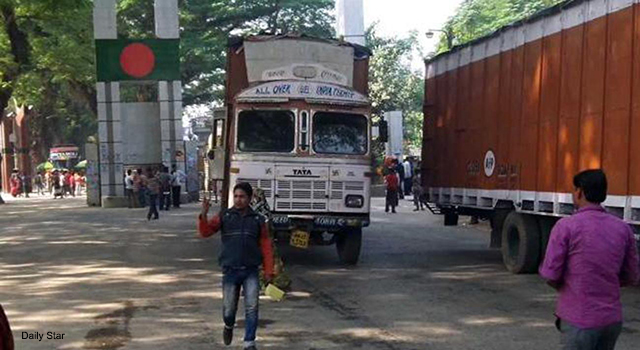 The Governments of Bangladesh and India agreed to conduct a feasibility study on introducing automatic document processing and record management of export-import cargo for faster clearance of goods at the Petrapole-Benapole Customs houses in the Joint Group of Customs (JGC) meeting held on 8-9 October 2018 in New Delhi, India.
Both countries also agreed to examine the Government of Bangladesh's proposal to introduce an electronic car pass system at Benapole Customs House to reduce the time taken for issuing car passes to vehicles for facilitation of export-import cargos; and launch the exchange of information and relevant Customs documents for selected commodities in all major Customs stations by December.
To further boost Customs cooperation, the Government of Bangladesh requested the Government of India to establish a plant quarantine office at Ghojadanga, Hili, and Fulbari land Customs stations; construct a bridge over the Kushiara river to facilitate trade through the Jokiganj-Karimganj route; and allow for more efficient clearance of fish exports from Akhaura to Agartala.
The Government of India, on the other hand, recommended improving the infrastructure and facilities of the Akhaura land customs station and the Sonahat land customs station; repairing the damaged bridge to resume trade through the Chatlapur-Manu land customs station; and installment of a weighbridge at Sheola land customs station. The Indian side also proposed relaxation of port restrictions for 20 products, including manufactured food items, medicines, surgical items, cosmetics, electrical items, motor parts, tea, bicycle, three- and two- wheel motorized vehicles, spices, and clinker.
Customs authorities of the Governments of Bangladesh and India also launched the "One-time Push" initiative to ease congestion of vehicles at the Benapole and Petrapole land ports beginning 15 October 2018. Under this program, all clearing and forwarding agents, transport authorities, service providers, and port authorities will coordinate to fast-track Customs clearance to ease congestion along the border. Benapole-Petrapole is the busiest trade route between the India and Bangladesh, registering more than $9 billion in trade annually.
Related Links: