Regional Cooperation to Give South Asia Access to Reliable Power
28 January 2018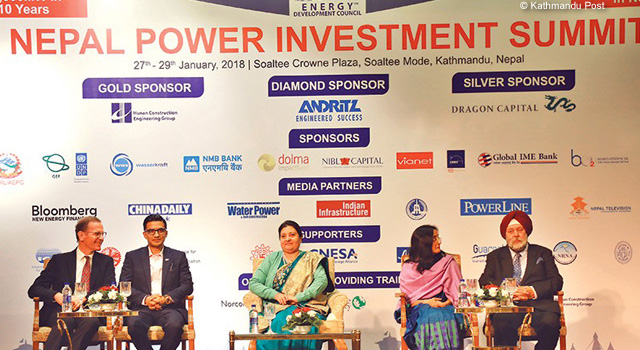 Nepal President Bidhya Devi Bhandari called on investors to take part in harnessing Nepal's hydropower potential, noting the growing demand for electricity in the country and in the rest of South Asia. President Bhandari was speaking at the Nepal Power Investment Summit 2018 held on 27-29 January 2018 in Kathmandu, Nepal, organized by the Energy Development Council (EDC). He noted that energy cooperation between Nepal and India helps ensure reliable electricity supply for both countries.
India Ambassador to Nepal Manjeev Singh Puri urged Nepal to prioritize development of "large energy projects to provide energy at competitive rates." India has invested heavily in two big hydropower projects in Nepal, Arun III and Upper Karnali, each capable of generating 900 megawatts (MW).
Regional cooperation will help South Asian countries realize Sustainable Development Goals in energy by 2030. Bangladesh Ambassador to Nepal Mashfee Binte Shams noted the need to develop legal and regulatory provisions for subregional and regional electricity trade. Ms. Shams said Nepal could play a key role in helping the region face the rising demand for clean, affordable, and reliable energy in the region.
The Nepal Power Investment Summit was organized to promote Nepal as an investment destination for the energy sector, particularly in hydropower.
Related Link: