Bhutan and Assam, India, Vow to Strengthen Bilateral Trade
1 February 2018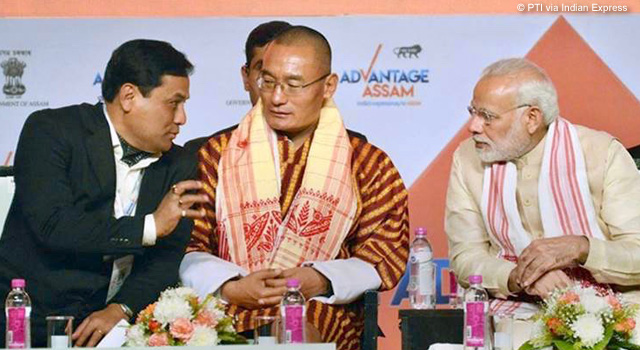 Bhutan Prime Minister Tshering Tobgay and Assam, India, Chief Minister Sarbananda Sonowal met on 1 February 2018 to strengthen bilateral business relations between Bhutan and India. Prime Minister Tobgay was in the city of Guwahati, Assam, to inaugurate the Bhutan consulate general's office and to attend the Advantage Assam Global Investors' Summit.
Prime Minister Tobgay said the Summit will strengthen trade relations and help bring prosperity to both Bhutan and India.
India Prime Minister Narendra Modi, speaking at the Summit's inaugural address, highlighted the importance of transportation in India's development strategy, with its emphasis on road and rail connectivity in the region.
Prime Minister Tobgay and Chief Minister Sonowal celebrated the 50th anniversary of Bhutan-India relations on 2 February 2018 with the inauguration of the Bhutan consulate general's office in Guwahati. Chief Minister Sonowal said the inauguration marks "a new beginning of trade, cultural, and other relations between Assam and Bhutan."


Related Links: