Prime Ministers of Singapore and India Laud ASEAN-India Strategic Partnership, Call for Greater Trade and Connectivity
25 January 2018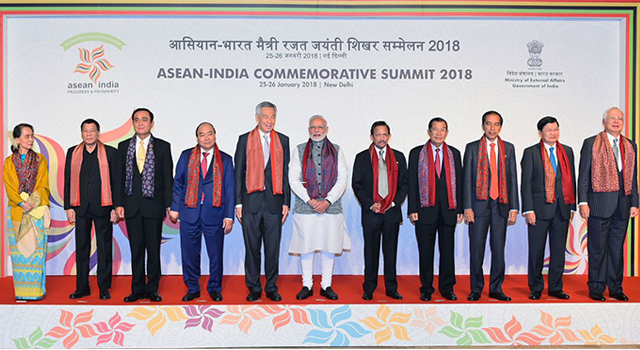 Singapore Prime Minister Lee Hsien Loong called on member countries of the Association of Southeast Asian Nations (ASEAN) and India to move the ASEAN-India dialogue partnership forward by increasing trade, economic cooperation, and connectivity.
In a speech he delivered at the opening ceremony of the ASEAN-India Commemorative Summit Plenary Session in New Delhi, India, on 25 January 2018, Prime Minister Lee remarked on the huge growth potential found in India and the ASEAN. He highlighted the importance of the Regional Comprehensive Economic Partnership (RCEP) agreement that is currently being negotiated. According to Prime Minister Lee, India and the ASEAN can together establish the world's largest trading bloc through the RCEP, with about 1.8 billion people from Southeast Asia and India, and a combined GDP of more than $4.5 trillion.
Prime Minister Lee also promoted improvement of air, land, maritime, and digital connectivity to drive growth. Connectivity will reinforce business and people-to-people links, benefiting people of India and the ASEAN nations.
India Prime Minister Narendra Modi, who co-chaired the Plenary with Prime Minister Lee, emphasized the growing significance of trade between India and the ASEAN. He lauded growing trade between India and the ASEAN, which has multiplied by 25 times over the last 25 years, amounting to $70 billion, and the robust investment environment between ASEAN and India. He promised to continue working with the ASEAN member countries to further enhance trade ties, and facilitate interactions among the business community. He also expressed optimism that India's Project Development Fund and Quick Impact Projects will help India and ASEAN companies integrate into regional value chains, particularly in sectors including textiles and garments, pharmaceuticals, agro-processing and electronics.
He also reflected on the importance of connectivity in strengthening linkages between India and the ASEAN member states. He called to facilitate people-to-people connectivity, and proposed to declare 2019 as the "ASEAN-India Year of Tourism." Prime Minister Modi also vowed to forge new bonds of digital connectivity by piloting digital villages in Cambodia, Lao PDR, Myanmar, and Viet Nam.
Leaders of the ten ASEAN member countries—Brunei, Cambodia, Indonesia, Lao PDR, Malaysia, Myanmar, Philippines, Singapore, Thailand, Viet Nam— were invited by the Government of India at the two-day ASEAN-India Commemorative Summit and were chief guests for India's Republic Day celebrations.
Related Links: