Delhi Declaration Reflects India and the ASEAN Region's Commitment to Step Up Economic Cooperation
25 January 2018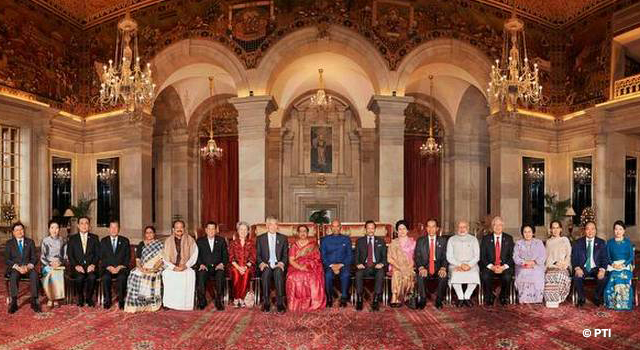 The Heads of State/Government of the Member States of the Association of Southeast Asian Nations (ASEAN) and the Republic of India gathered in New Delhi, India, on 25 January 2018 to commemorate the 25th Anniversary of ASEAN-India Dialogue Relations.
They issued the Delhi Declaration which highlights key areas for future partnership between India and the ASEAN on political and security cooperation, economic cooperation, socio-cultural cooperation, connectivity, and narrowing the development gap. Broadly, the Declaration called for
Further strengthening and deepening of the ASEAN-India Strategic Partnership;
Effective and timely implementation of the Plan of Action to Implement the ASEAN-India Partnership for Peace, Progress and Shared Prosperity (2016-2020);
Continued high-level engagement and cooperation within the existing framework of the ASEAN-India Dialogue Partnership and ASEAN-led mechanisms, including the ASEAN-India Summit, the East Asia Summit (EAS), the Post Ministerial Conference with India (PMC+1), the ASEAN Regional Forum (ARF), the ASEAN Defence Ministers' Meeting (ADMM) Plus, and other ASEAN-India ministerial/sectoral mechanisms; and
Continued support for ASEAN integration and ASEAN Community-building process, toward the realization of the ASEAN Community Vision 2025.
Seeking to broaden and deepen economic linkages, the Declaration emphasized the need to;
Boost trade between India and the ASEAN member countries by fully utilizing and implementing the ASEAN-India Free Trade Area, as well as intensifying efforts toward swift conclusion of the Regional Comprehensive Economic Partnership; and
Promote private sector engagement and enhance business-to-business relations, through initiatives such as the ASEAN-India Business Council. The statement also encouraged trade events to promote awareness of ASEAN and India products and services, and the establishment of the ASEAN-India Trade and Investment Center.
On connectivity, the Delhi Declaration reaffirmed India and the ASEAN region's commitment to enhance physical and digital connectivity, and expressed support for the early completion of the India-Myanmar-Thailand Trilateral Highway Project, and its extension to Cambodia, Lao PDR and Viet Nam.
The statement also encouraged cooperation in energy to step-up energy security in ASEAN and India.
Other areas of economic cooperation emphasized in the Declaration include cooperation in the field of blue economy; establishment of closer ASEAN-India air links to promote tourism, trade, and enhance greater connectivity between ASEAN and India; maritime transport cooperation between ASEAN and India; cooperation in ICT; promotion of stable and sustainable growth for Micro, Small and Medium Enterprises; cooperation to advance science, technology, and innovation; and collaboration in peaceful space exploration.
Related Links: