SAFE Framework and AEO Programme to Secure Supply Chains in Sri Lanka
16 January 2018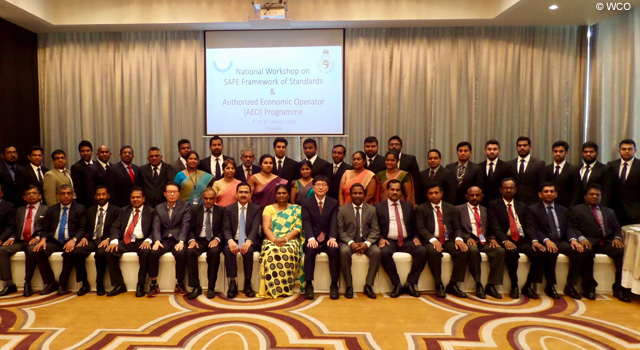 World Customs Organization (WCO), in cooperation with the China Customs Cooperation Fund, conducted a workshop on the Framework of Standards to Secure and Facilitate Trade (SAFE Framework) and the Authorized Economic Operator (AEO) program in Colombo, Sri Lanka.
The workshop was held on 8-11 January 2018 with over 40 participants from Sri Lanka Customs, cross-border regulatory agencies working in commerce, trade control, health standards, plant quarantine, intellectual property, civil aviation, and port and airport authorities, and the private sector. The workshop laid down a broad framework for Sri Lanka Customs to effectively implement the SAFE Framework and launch an AEO program.
Experts from the WCO discussed various instruments and benefits relating to the implementation of the WCO SAFE Framework, the AEO program, the World Trade Organization Trade Facilitation Agreement (TFA), and mutual recognition tools.
Participants analyzed the status of Sri Lanka's implementation of various standards of the SAFE Framework and participated in practical exercises to formulate an action plan to implement an AEO program in Sri Lanka.
The AEO program allows trade operators with a good record of customs compliance to access faster customs processing and other trade facilitation benefits. The WCO SAFE Framework is a set of recommendations to help customs organizations enhance security and facilitate global trade.