ADB to Lend Bangladesh $6 Billion in Three Years
14 December 2017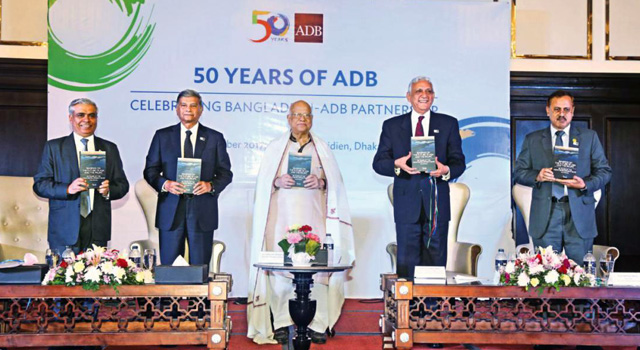 The Asian Development Bank (ADB) will lend Bangladesh $6 billion during 2018-2020, in support of 43 projects to generate inclusive growth and help the country achieve its Sustainable Development Goals. ADB affirmed its long-term development partnership with Bangladesh on 12 December 2017 in Dhaka, as ADB marked its 50th founding anniversary.
Speakers at the event noted ADB's partnership in improving the lives of people in Bangladesh and the Asia-Pacific region.
ADB has provided Bangladesh about $21 billion in loans and grants, including $1.9 billion for five projects in 2017. Major projects include the Bangladesh-India Electrical Grid Interconnection, under the South Asia Subregional Economic Cooperation (SASEC) program, and the Khulna-Mongla Road.
ADB has committed to help Bangladesh develop roads and railways network, sea ports, urban mass transport, power and energy transmission and distribution, renewable energy plant development, and regional interconnection.
Related Link: