"Advancing BBIN Subregional Cooperation" Focuses on Subregional Trade and Investment
14 May 2017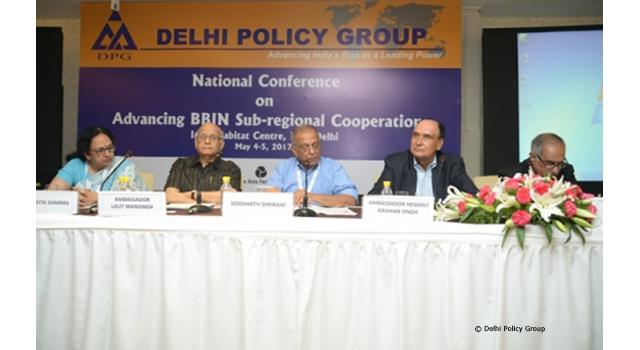 "Advancing the BBIN Subregional Cooperation", a conference organized by the Delhi Policy Group on 14 May 2017, discussed how to improve the trade and investment environment in the Bangladesh, Bhutan, India, and Nepal (BBIN) subregion.
It highlighted the need to
Deepen trade and investment ties in the subregion;
Create a regional production and exchange value chain; and
Reduce items in the sensitive list of Bangladesh (over 1,000), and Nepal, (928).
Mr. Swarnim Wagle, Member, National Planning Commission, Nepal, underscored the importance of manufacturing to boost economic activities in the subregion.
Mr. Selim Reihan, Economics Professor, Dhaka University, and Executive Director, South Asian Network on Economic Modeling, put forward that BBIN should work on expanding trade in goods and services, including making the BBIN a formal regional platform under the World Trade Organization (WTO) to prompt tariff liberalization from Bangladesh and Nepal.
Mr. Ajitava Raychaudhuri, Economics Professor, Jadavpur University, added that the WTO allows neighboring states to leverage each other's advantages to promote frontier trade. He weighed in on the key role of stitching the BBIN together, which could be led by India with agreement from the other BBIN countries. He highlighted that BBIN investments could generate more jobs, leading to a multiplier effect, and prompt reduction of the sensitive list.
Mr. Prabir De, Coordinator, ASEAN-India Centre under the Research and Information System for Developing Countries, Ministry of External Affairs, India, explained that member countries of the South Asian Association for Regional Cooperation can form subregional groupings such as BBIN. He said BBIN countries can benefit from their geographical contiguity, sea access, vast natural resources, and demographic advantages, with India, the largest BBIN partner, standing to benefit the most.

Related Link: