Bhutan's National Council Passes the Indo-Bhutan Trade Commerce, and Transit Agreement
12 May 2017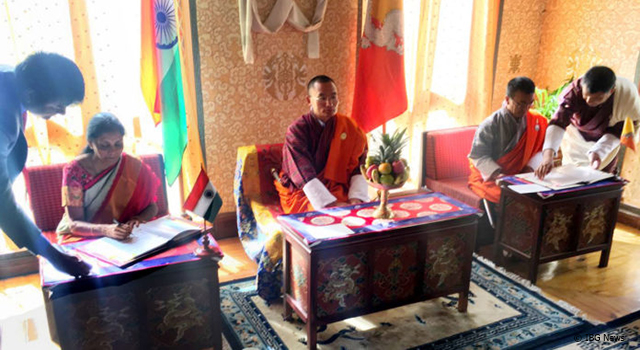 The National Council of Bhutan endorsed the Indo-Bhutan Trade, Commerce, and Transit Agreement on 12 May 2017, along with the Paris Agreement on Climate Change. Mr. Lekey Dorji, Economic Affairs Minister, Bhutan, explained the salient features of the Agreement, emphasizing how the revised bilateral trade Agreement will benefit both Bhutan and India, through the following provisions:
Free trade regime between Bhutan and India;
Duty free transit of Bhutanese merchandise for trade with third countries through Indian ports; and
Additional entry/exit points for Bhutan's trade with other countries.
The new agreement also promotes periodic exchange of trade data—necessitating proper documentation of trade data from both sides—to enable both countries to reconcile their trade figures.
The new Agreement was signed by Mr. Dorji and Ms. Nirmala Sitharaman, Minister of State for Commerce and Industry, India on 12 November 2016. It will come into force once both countries complete their internal ratification procedures. While awaiting its ratification, extension of the previous India-Bhutan Agreement on Trade and Commerce is still in effect.
The India-Bhutan bilateral agreement was first signed in 1972, and has been renewed four times.

Related Link: