Nepal President Embarks on India State Visit
18 April 2017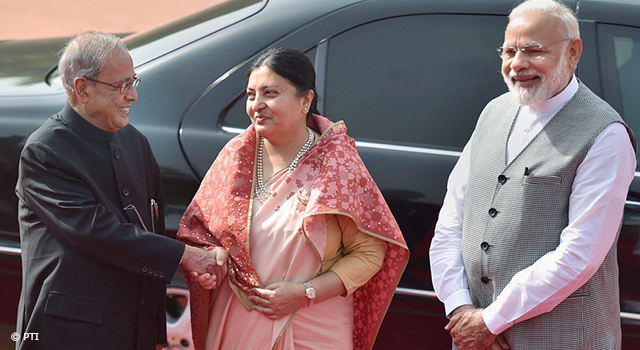 Nepal President Bidya Devi Bhandari embarked on a five-day visit to India, her first state visit as President of Nepal, on 17-21 April 2017 at the invitation of India President Pranab Mukherjee. President Bhandari expressed confidence that India-Nepal bilateral ties would be strengthened further through her visit.
At a banquet hosted in her honor on 18 April 2017, President Mukherjee thanked her and the Government and people of Nepal for the overwhelming warmth and gracious hospitality during his visit to Nepal in 2016. President Mukherjee reflected on the close relations between India and Nepal, urging both countries to build on their many complementarities, and explore opportunities and new avenues of cooperation for the mutual benefit of Nepal and India. He reaffirmed India's commitment to bilateral cooperation and friendship with Nepal, and expressed hope of advancing the region's common interests through regional and subregional cooperation, which will lead to a better future for the whole region.
India Prime Minister Modi also extended a warm welcome to President Bhandari, and noted their fruitful discussions.
Ms. Sushma Swaraj, External Affairs Minister, India, called on the visiting Nepalese President.
President Bhandari was accompanied by a 33-member delegation, including Mr. Prakash Sharan Mahat, Foreign Minister, Nepal, and Ms. Sita Devi Yadav, Peace and Reconstruction Minister, Nepal, and five members of Parliament, and senior officials from Nepal.

Related Links: