New Bangladesh-India Rail, Bus Services to Ramp Up Connectivity
8 April 2017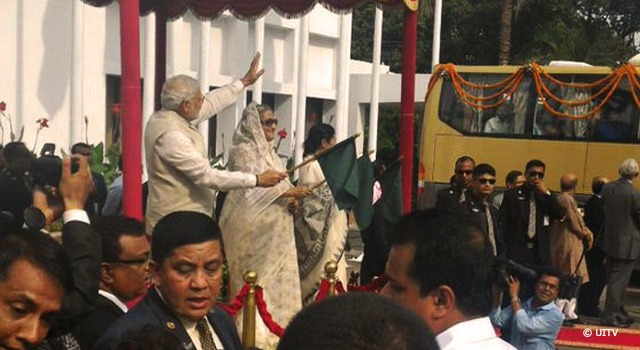 New rail and bus services between India and Bangladesh have been launched by India Prime Minister Narendra Modi and Bangladesh Prime Minister Sheikh Hasina, ramping up connectivity between the two countries. In his speech, Prime Minister Modi emphasized the importance of connectivity to the success of Bangladesh-India bilateral development partnership, subregional economic projects, and larger regional economic prosperity. The newly-launched transport links included:
The Maitree Express train that will run between Kolkata and Khulna;
Bus services between Kolkata and Dhaka;
Rail link between Radhikapur (India) and Biral (Bangladesh); and
Cargo consignment of high speed diesel from Assam.
Plans to optimize inland waterways and routes, and operationalize the Coastal Shipping Agreement are also underway. The Prime Ministers of Bangladesh and India lauded progress in the two-way transshipment of goods, and expressed the desire for early implementation of the Bangladesh-Bhutan-India-Nepal Motor Vehicles Agreement.
A Memorandum of Understanding and standard of procedure establishing passenger and cruise services on the coastal and protocol route, and regulation of passenger vehicle traffic on the Khulna-Kolakata were also signed during Prime Minister Hasina's visit.
The Cabinet of Bangladesh approved the new Dhaka-Kolkata route via Mawa, Gopalganj, Khulna, Jessore, and Benapole on 4 April 2017.

Related Links: