Private Sector Commitments Promise to Boost Bangladesh Energy Security
10 April 2017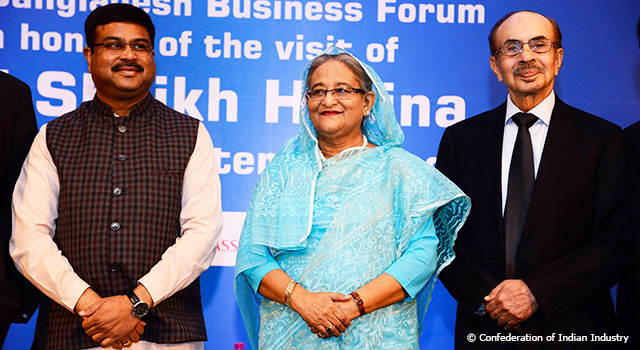 Private sector representatives from India and Bangladesh promised to boost Bangladesh's energy security by signing preliminary agreements worth $9 billion in the presence of Bangladesh Prime Minister Sheikh Hasina on 10 April 2017. This includes:
The NTPC Vidyut Vyapar Nigam Limited (Ltd) and the Bangladesh Power Development Board agreement worth $138 million to supply additional 60 megawatt (MW) of power from Tripura, India to Bangladesh. NTPC will also supply Bangladesh with power from Nepal, at a cost of $3.15 billion;
The Adani Power (Jharkhand) Ltd and Bangladesh Power Grid agreement worth $2 billion to implement a power project and supply energy;
The Bangladesh India Friendship Power Company Limited and EXIM Bank of India agreement worth around $1.6 billion to finance construction of the 1,320 MW Maitree Power Project in Rampal, Bangladesh; and
The Reliance Power and Bangladesh Ministry of Power, Energy and Mineral Resources agreement worth $1 billion to set up a power project and supply electricity.
India is one of Bangladesh's major partners in its aim of achieving power for all by 2021. In a speech delivered during Prime Minister Hasina's visit, India Prime Minister Modi emphasized that energy security is an important dimension of the Bangladesh-India development partnership. He highlighted the additional 60 MW of energy and committed another 500 MW, in addition to the 600 MW already being supplied to Bangladesh. He invited more investments for Bangladesh's energy sector.
Bangladesh Prime Minister Sheikh Hasina urged the Indian business community to take advantage of Bangladesh's steady economic growth, high demographic dividend, competitive business cost, and large consumer base. Alongside investments in the energy and power sector, she promoted investments in infrastructure, transport, manufacturing, and food and agricultural processing. The Prime Minister announced that Bangladesh will soon offer a one-stop service for investors, and called on the Indian business sector to participate in the Mongla, Bheramara, and Mirshorai special economic zones, which are dedicated to Indian investors.
Related Links: