Commentary: Development of Ports and Transportation for Trade Facilitation
10 March 2017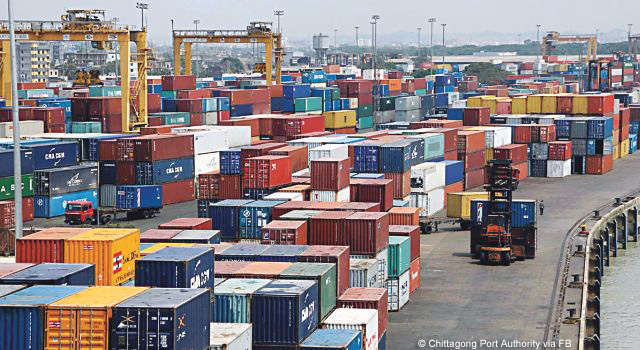 Trade facilitation that ensures fast and safe transportation of goods directly affects economic growth in Bangladesh. Mr. Md Shafiqul Islam, former Secretary to the Government of Bangladesh, writes about how ports and economic corridors, by facilitating international trade, play a pivotal role in strengthening the economy. He also discusses the need to frame long-term and comprehensive action plans that could be used to shape policies on efficient port operation and management.
Commentary: Development of Ports and Transportation for Trade Facilitation
By Md Shafiqul Islam
Trade facilitation refers to a broad range of measures that aim to streamline the movement of goods and reduce red tape and procedural barriers, including tariff structures and other broad trade supporting services. Trade facilitation impacts on the percentage growth of gross domestic product (GDP) and international trade.
Globalisation, deregulation, logistics integration and containerisation have also impacted all sectors of Bangladesh in general and the maritime sector in particular. With the adoption of deregulation policy in the 1980s and open market economic policy in the 1990s, trade growth in Bangladesh accelerated, necessitating efficient cargo handling through ports, particularly Chittagong Port. Foreign trade accounts for approximately 38% of GDP. The average maritime dependency factor of the country is about 33% in the last five years.
In Bangladesh, trade facilitation encompasses the area of the growth of container, reduced turnover time and occupancy rate of vessels, enhancement of the physical infrastructural facilities of port and cargo handling capacity, improvement of transportation facilities along with the mode of transportation, enhancement of the overall capacity of the Inland Container Depot (ICD), River Inland Container Depot (RICD) and digitisation of cargo handling and services across the border. It contributes to lowering the trade costs, increasing competitiveness in the international market and enhancing economic wealth. Trade facilitation is effected by investment in the improvement of port facilities, transportation infrastructures inside and outside the ports, information communication technologies, handling and custom clearance facilities, environmental aspects of the ports, etc.
Existing Facilities at Chittagong Port
Chittagong Port plays a pivotal role in revitalising the economy and sustaining economic growth in Bangladesh by facilitating international trade. The bulk of international trade is generated from the Dhaka-Chittagong corridor, where more than a third of the country's economic activity is located.
Built in 1887 near Karnaphuli River, 16 kilometers upstream of the Bay of Bengal, Chittagong Port is an integral part of the subregional transport and logistics chain connecting northeastern India, Bhutan and Nepal to Europe, North America and Southeast Asia. The average size container vessels serving Chittagong Port is 2,500 TEUs (twenty-foot equivalent unit) to 3,000 TEUs having draft of 9.1 meters (more modernised sea ports are found handling container vessels of 5,000 to 18,000 TEUs).
In Bangladesh, both export and import and regional trade (such as with Nepal, Bhutan, and northeastern Indian states) are handled through two seaports (Chittagong Port and Mongla Port), 10 land ports (Benapole, Burimari, Akhaura, Sonamasjid, Hili, Banglabandha, Teknaf, Bhomra, Bibirbazar and Nakugaon), and three international airports (Hazrat Shahjalal International Airport, Dhaka, Shah Amanat International Airport, Chittagong, and Osmani International Airport, Sylhet). According to sources, the seaports handle 87% of Bangladesh's trade, while land ports handle 13%. Chittagong Port services 79% of Bangladesh's agricultural imports and exports.
Chittagong Port is connected to the hinterland by railways, road networks and inland waterways. Dry cargo from the port is cleared by three modes of transport, namely rail, road and river, which are approximately 10%, 75% and 15% respectively of the total cargo forwarded to the hinterland, out of which 60% is bound for the Dhaka area, a large commercial and industrial centre of the country.
In 2016, Chittagong Port handled 2.346 million twenty-feet equivalent units (TEUs) of containers having 51.38 million tons (MT) of cargo, and in 2015, 2.024 million TEUs of containers having more than 50 MT of cargo. It is anticipated that there will be a threefold rise in container traffic in the next 15 years. The expected figures are 2.7 million TEUs in 2020 and 5.4 million TEUs in 2040. Major imported commodities are food grains (e.g. wheat), cement, fertilizer, coal, salt, sugar, edible oil, etc. Government of Bangladesh data notes that Chittagong Port has general and container berths and jetties for oil, grain, urea, ammonia, fertilizer and dry cargo.
The growth of handling of both cargo and container has been remarkable, which indicates the growth of the national economy and also warrants upgradation of cargo handling facilities of the ports.
The Chittagong Port Authority has 13 general cargo berths for handling general cargo, out which six jetties are now being used to handle container vessels along with the existing container terminal having the capacity to handle three container vessels. Moreover, with the construction of New Mooring Container Terminal, along with 1,000 meter long berth and back up facilities on a 65-acre lot, an additional 0.5 Million TEUs could be handled.
There are 16 private bonded off-dock services; 37 types of commodities are authorised through these private services. In 2014, according to contacts, these private services handled 89.91% and 22.93% of the total export and import cargo. The growth in container traffic at Chittagong Port has been higher than anticipated. Due to limited facilities, only about 10% of containers could be transported by railways to the Dhaka ICD.
Lighterage of Cargo
The deep draft vessels are lightered at the outer anchorage by tankers, each with a capacity of approximately 1,000 tons, and coasters with a capacity of 300 to 1,000 tons, owned by the public and private sectors. Besides these, country crafts, each with a capacity of 20-80 tons, and steel barges, each with a capacity of 300-500 tons, also carry out lighterage work.
Cargo from such lighters intended to be discharged at Chittagong Port is handled at a vacant jetty, or in between two vessels alongside the jetties. Cargo discharged into lighters at the outer anchorage may also be directly transported to inland river ports and Mongla Port.
The planned Bay Terminal at Patenga coast on 900 acres of land behind the Chittagong Export Processing Zone would allow big ships longer than 190 meters and drafts more than 9.5 meters to berth and carry out other activities. Mother vessels having up to 5000 TEUs will be able to anchor there.
Transportation by Railway
Bangladesh Railway's ICD at Kamalapur, Dhaka, has at present 450 bogie flat container trucks for movement of consignments from Chittagong to Dhaka having facilities for custom clearance. Two trains with 62 container trucks aboard ply the route from Chittagong to Dhaka daily; the trip takes approximately 18 to 20 hours. It takes around six hours to unload 31 container trucks from one train and approximately three to five days to clear shipments at the Dhaka ICD. Storage facilities at the Dhaka ICD are up to 3,927 TEUs per day.
To cater to the growing needs of container service through railway, the government is planning to establish a container terminal on a 55-hectare lot in Dhirasram, Gazipur, attached to the Dhaka Eastern bypass road, with a handling capacity of 354,000 TEUs per annum. Industries at Savar, DEPZ, Tongi, Dhamrai, Gazipur and those on the Dhaka-Sylhet highway will benefit from this ICD. Handling capacity of this ICD is almost 20% of the container handling capacity of Chittagong Port. Establishment of this ICD will certainly impact positively on the transportation of containers by rail and reduce the transportation cost for import and export commodities.
To ease transportation of goods through railways, early implementation of the ICD at Dhirasram is highly desired. Considering the impact on economic development, government might consider building a two-way dedicated railway line from Dhirasram to Chittagong Port. This will enable the faster movement of containers as well as reduce congestion at Chittagong Port and the Dhaka-Chittagong highway corridor.
RICD at Pangaon
Chittagong Port Authority and Bangladesh Inland Water Transport Authority have jointly built an Inland Container Terminal at Pangaon, near Dhaka, for transportation of goods to Chittagong and Mongla.
The port has an 180-meter jetty where two 70 to 75-meter ships with 4.5 meters of draft can berth simultaneously. The terminal has storage facilities for 3,500 TEUs containers and can handle 116,000 TEUs annually, and its capacity will gradually be raised to160,000 TEUs. This is almost 10% of the TEUs handled at Chittagong Port. The terminal is expected to open up new horizons in the transportation of goods through waterways and will ease the pressure of cargo movement on the Dhaka-Chittagong railway and highway corridors.
Need for More Terminals
It has been envisaged in a government plan to establish a power hub at Maheshkhali, Cox's Bazar, for the production of about 10,000 megawatts of power from coal-based super critical power plants through construction of eight 2X660-megawatt power plants. Each plant will require imported coal of 6.5 million tons per annum. When all the plants become operational, total coal requirement would be 28.00 million tons per annum. A dedicated coal terminal for regular supply of coal to the power plants should be constructed on a priority basis. Similarly, in addition to the construction of Payra Port for handling general and containerised cargo, a separate coal terminal has to be built to regularly supply coal to the envisaged three 2X660-megawatt coal-based power plants at Payra.
Moreover, government has also envisaged establishing 100 special economic zones and more special export processing zones for individual countries like the existing Korean Export Processing Zone. When these special economic zones and special export processing zones are established, cargo handling capacities of Chittagong, Mongla and Payra ports, along with other public and private inland ports, will have to be enhanced to accommodate the increased volume of cargo.
The government has envisaged to set up a second unit of Eastern Refinery Limited having capacity 3.00 MT at Chittagong and another refinery of capacity 5.00 MT near Payra Seaport under Patuakhali district on an area of 1000 acres of land. These two refineries will necessitate offloading facilities of crude oil at Chittagong and Payra ports.
Conclusion
Trade facilitation directly impacts the development and growth of the economy of the country. It involves efficient performance of port facilities, faster and safe transportation of goods to and from the ports.
To ensure smooth operations of ports, avoid congestion and reduce dwelling time of ships at Chittagong harbour and other ports, it is essential to upgrade the facilities of physical infrastructures, enhance the capacity of personnel involved in port management, foster connectivity with seaports, ICD and RICD, upgrade port operations in keeping with prevailing international standards, digitize customs procedures, track container and cargo movement using geographic information systems tracking, and maintain the environment of the ports in a harmonised manner. As a policy measure, transportation of 70-80% of goods through ICD and RICD and the remaining 20%-30% through highways may be considered for the benefit of international trade.
Adoption of long-term pragmatic policies on efficient port operation and management is required to facilitate the upcoming demand of cargo handling in different ports. Policies should be framed based on 30-40 years perspective of international trade and double-digit growth of the economy. Ministry of Ports and Shipping, in liaison with other concerned ministries, should embark upon formulating policies and framing comprehensive action plan to facilitate international trade for the development and growth of the burgeoning economy of Bangladesh.