Bali Trade and Development Symposium
25 January 2014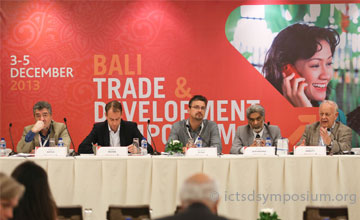 The Bali Trade and Development Symposium (TDS) took place on the sidelines of the Ninth WTO Ministerial Conference to discuss governmental and non-governmental stakeholder issues on trade and sustainable development and address challenges facing the multilateral trade system. Panelists emphasized the uncertain role of WTO negotiations in shaping the future of the world's vulnerable and highlighted the need to focus on food security and renewable energy in trade discussions.
Debates centered on issues related to regional trade agendas and the multilateral trading system, the role of Aid for Trade in the WTO and BRICS in the multilateral trading system, and impact of preferential agreements in the WTO and Trans-Pacific Partnership Agreement. The three broad thematic issues of the parallel event included
Environment and natural resources;
International trade governance and sustainable development; and
Trade and economic development.
The Indian Council for Research on International Economic Relations (ICRIER) organized the session on Trade Facilitation in South Asia where experts from India, Nepal and Bangladesh discussed measures for trade facilitation in the region and assessed intra-South Asian Association for Regional Cooperation (SAARC) trade. TDS was organized by the International Centre for Trade and Sustainable Development (ICTSD) and the Centre for Strategic and International Studies (CSIS).
Related Links: