Export-Import Code, Latest Customs Reform and Modernization Action Plan to Help Boost Nepal Trade
26 January 2017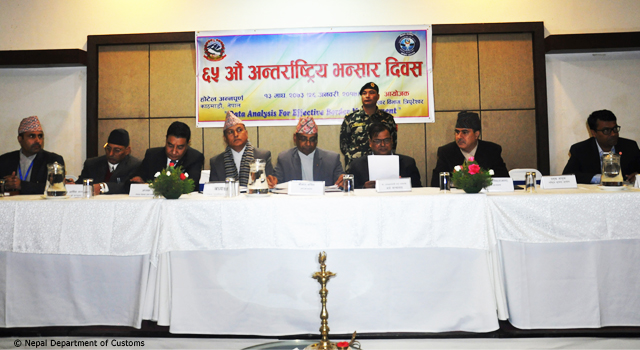 The Nepal Department of Customs (DOC) introduced the Export-Import (ExIm) code for traders, and presented the next phase of its Customs Reform and Modernization Strategies and Action Plan (CRMSAP) 2017-2021 on 26 January 2017, International Customs Day.
According to Mr. Sishir Kumar Dhungana, Director General, Nepal DOC, the ExIm code is being implemented as a trade facilitation measure, to be used in the digitized Customs Transit Declaration at Kolkata and Visakhapatnam ports in India, enabling electronic data interchange between Nepal and India Customs.
Nepal will strengthen implementation of provisions of the Revised Kyoto Convention (RKC) and the World Trade Organization Trade Facilitation Agreement through the CRMSAP 2017-2021. Adoption of RKC principles is expected to boost Nepal's foreign trade, and benefit Government and private-sector stakeholders, through improved trade facilitation, reduced trading costs, uniform Customs control, and more efficient movement of cargo and people. It will also promote better border security and reduce revenue leakage.
The CRMSAP 2017-2021 will also implement the single window system, interlinking Government agencies essential to Customs processes, including quarantine, banks, tax offices, and Customs agents. Other key priorities of the CRMSAP 2017-2021include Customs laboratory strengthening and interface among laboratories of the Department of Food Technology and Quality Control, and Nepal Bureau of Standards and Metrology; and streamlined coordinated border management agencies.
Related Links: