BIMSTEC Senior Officials Finalize Energy Grid MoU, Discuss Transport Connectivity
7 February 2017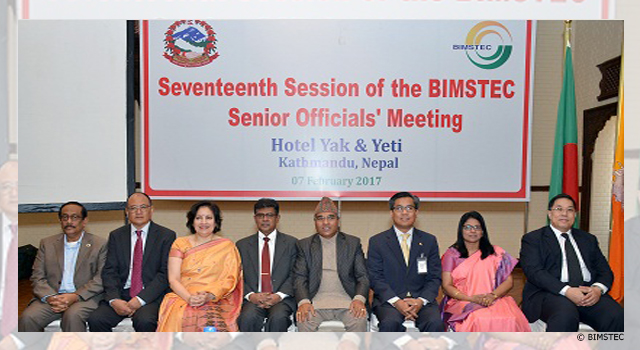 The 17th Session of the Bay of Bengal Initiative for Multi-Sectoral Technical and Economic Cooperation (BIMSTEC) Senior Officials Meeting concluded on 7 February 2017 in Kathmandu, Nepal, with an agreement to build a common power grid interconnection and facilitate energy trade among BIMSTEC member countries. An MoU for the BIMSTEC Grid Interconnection will be signed at the Third BIMSTEC Energy Minister's Meeting on 30-31 March 2017 in Kathmandu, Nepal.
BIMSTEC Senior Officials also decided on several priority issues, including:
Formulation of the BIMSTEC vision, to map the future direction of BIMSTEC, in line with the United Nations' Agenda 2030;
Convening separate expert-level working groups to conclude BIMSTEC trade and trade facilitation negotiations, including the BIMSTEC Free Trade Agreement, mutual assistance on Customs, and coastal shipping agreement; and
Hosting the 15th BIMSTEC Ministerial meeting in June 2017 in Kathmandu, Nepal, to finalize key agreements, including the BIMSTEC Grid Interconnection, and decide on the date for the next BIMSTEC Summit.
The Meeting also discussed the need to boost transport connectivity through the proposed BIMSTEC Motor Vehicles Agreement (MVA), allowing seamless movement of passengers and cargo vehicles among BIMSTEC member countries. The Government of India is set to organize a Working Group Meeting to discuss the BIMSTEC MVA.
The Meeting marked an important step toward revitalizing the BIMSTEC process, as recommended by BIMSTEC leaders during their retreat in Goa, India, on October 2016, hosted by India Prime Minister Narendra Modi.
The BIMSTEC inter-regional grouping will celebrate its 20th anniversary this year. The BIMSTEC Secretariat is planning a series of events and activities, including publication of a commemorative book on BIMSTEC and a BIMSTEC Trade Fair, to commemorate the anniversary and enhance visibility of this inter-regional grouping.
Related Links: