Koshi Bridge Restores Connectivity in Nepal's Eastern Development Region
5 August 2015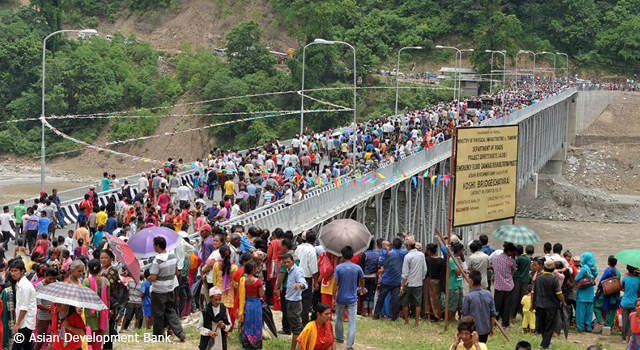 The newly-constructed Koshi Bridge, inaugurated by Nepal Prime Minister Sushil Koirala on 3 August 2015, improves road connectivity and restores economic activities in the eastern development region of Nepal. It was constructed with financial assistance from the Asian Development Bank (ADB) at a cost of $11 million.
The bridge provides an alternate route to the Koshi Barrage—badly damaged by monsoon floods in 2008—and ensures that the East-West highway is passable all year round. It improves mobility in the eastern region by establishing a direct link between the districts of Udayapur and Sunsari, and by connecting the Chatara-Rampur-Gaighat-Sindhuli road, making travel to Kathmandu faster and safer. Minister for Physical Planning and Infrastructure, Mr. Bimalendra Nidhi said the bridge will act as a backbone for new road networks being developed, including the Mid-Hill Highway.
By connecting important regional and national business hubs, Koshi Bridge creates new opportunities for growth. Chief of Sunsari Chamber of Commerce and Industry, Mr. Ramesh Bista said that the bridge's links to various road networks will help improve the eastern region's economic, education, health, social, and tourism sectors.
ADB Country Director, Nepal, Mr. Kenichi Yokoyama added that the Koshi Bridge was completed within the scheduled period of 3.5 years through mutual efforts by the Government of Nepal and ADB. Measuring 261.3 meter long and 7.5 meter wide, it is an important strategic link, expanding transport connectivity within Nepal, and onward to India and Bangladesh. Funded through ADB's Emergency Flood Damage Rehabilitation Project approved in 2009, the bridge applies the concept of build back better, protecting the region from future flooding-related risks.

Related Links: